Another reason why Stewart is the right underwriter for you.
As the industry changes in response to the Consumer Financial Protection Bureau's (CFPB) proposed rule released July 9, 2012, and the April 13, 2012 bulletin, Stewart is doing everything necessary to secure your place in the real estate transaction process.
This website is a big part of our effort to ensure you have the information you need to adapt and excel in this changing environment. We will continue to update this site to include more information and materials so you are ready to operate under the rule on October 3, 2015.
What Does The TILA-RESPA Integrated Disclosure Rule Mean To You?
Watch the short but informative three-minute video below to learn more about the TILA-RESPA Integrated Disclosure rule, specifically how the HUD-1 and Truth-in-Lending Disclosure for most closed end residential loans are going away, the new rules about when these forms must be delivered and what this will mean to you and your customers.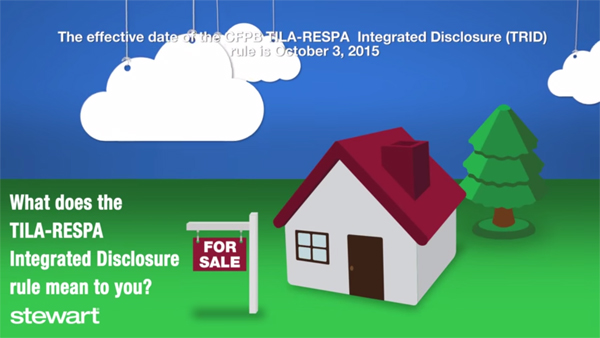 View ALTA's Best Practices
Title Insurance and Settlement Company Best Practices from ALTA® are meant to serve as a guide for ALTA members in enhancing existing business practices to protect consumers, ensure quality service, provide for ongoing employee training, and meet legal and market requirements.
Sellers, buyers, borrowers, lenders and agents, attorneys, or employees of those persons – please confirm you are in compliance with your state DOI regulations before utilizing any resources, content or information from this site.