Activating and Deactivating Content
As discussed in "What is AEM?", pages in the author environment live on a different server than the pages that site visitors see on the live site – the publish environment. Moving a page from the author environment to the publish environment is called activation. Likewise, removing a page from publish so that it only lives in author is called deactivation. Only stewart.com admins have the permissions to activate content, so authors must use a feature in Adobe® Experience Manager (AEM) called Workflows to request activation of modified pages.

This is the process for requesting activation of pages in AEM.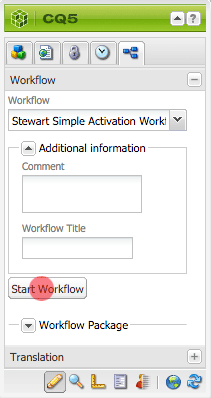 When you are ready to send off the page for approval, click the "Start Workflow" button.
Tip: Make sure the page has been approved by any internal stakeholders in your local office, if required, because when a page is in a workflow, it is locked and cannot be edited until it has been either approved or rejected.