Digital Asset Management (DAM)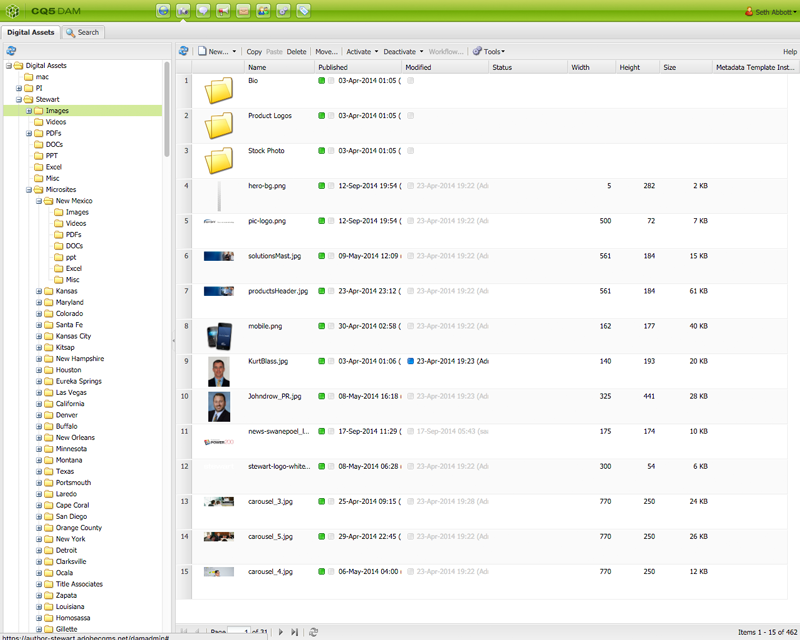 The digital asset management (DAM) portion of CQ is designed to work as a repository for all files that may be used or link to from your website. Any file, such as Microsoft® Word, Excel, or PDF, and a variety of image formats are acceptable. In fact, any file may be stored here, except HTML files. HTML files prompt a download and do not view in the browser as expected.
Visually, the DAM looks very similar to the web content management. There is a folder tree in the left pane and clicking on a folder there will show its contents in the right pane as seen in the screenshot.
File Storage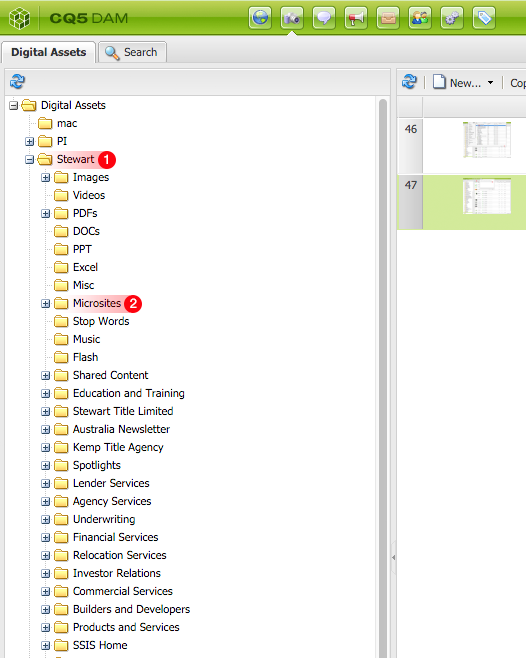 Your site already has space allocated in the DAM from when it was built by stewart.com admins. Just look in the root of "Stewart" – #1 in the screenshot – or "Stewart/Microsites" – #2 in the screenshot. If you still cannot find the folder for your microsite, please contact your Marketing Manager.
Your folder should already have all the sub-folders needed for different file types. For consistency, we ask that you do not add any folders in the root but instead add files and other folders in the folders already created. You should have the following directories ready to use.
Images
Videos
PDFs
DOCs
PPT
Adding Images to the DAM
There are two ways to add files to the DAM.
Once the file(s) have been uploaded you will need to activate them. You do not need activation to view and use in author mode, but when the page is submitted to stewart.com admins for publication, the files will need to be published in order to appear when the page is made live.
Using Files in the DAM
Files placed in the DAM can be used in multiple ways. Some are brought into components via the Content Finder (see Navigating the User Interface) while others might be linked from a piece of text. You may also want to send a customer a link to a file that is stored in the DAM. Below, we will look at each example