The Sidekick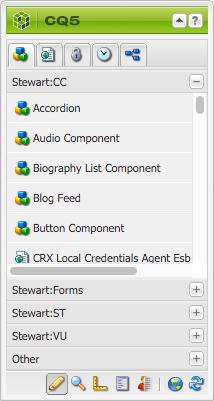 A floating window known as the sidekick appears on the editable page from which new components can be dragged and where actions that apply to the page can be executed. The sidekick window acts as the author's toolbox.
Page Modes
The row of icons at the bottom of the Sidekick is used to switch modes for working with pages.
Edit – This is the default mode and allows you to edit the page, add or delete the components, and make other changes
Preview – This mode allows you to preview the page as if it were appearing on your website in its final form. Again, the sidekick is minimized. As in design mode, click the arrow on the sidekick to return to edit mode.
Design – In this mode, the sidekick is minimized and you have the possibility to edit the design of the page. For example, if you click on "Edit" on the paragraph system, you can add or remove the components available. Stewart.com admins are the only authors with access to design mode. If you feel you are missing components in your sidekick, contact your marketing manager.
Websites – This will open a new browser window and load the current page in the web content management (WCM) console.
Refresh – Refreshes the browser and loads the page again.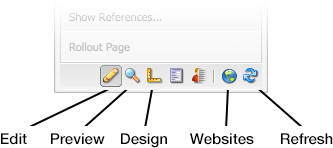 Page Actions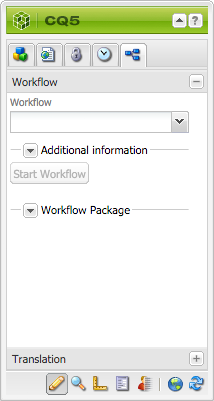 Only stewart.com admins have the ability to publish content. All other authors must use workflows to request activation. Once a page has started a workflow, the page becomes locked and no edits can be made until the request for activation either gets approved or rejected. Provide workflow title and comments by clicking on "Additional Information". This message is placed in the email that stewart.com admins get regarding workflows. From the dropdown box labeled "Workflow", select the "Stewart Simple Activation Workflow" when you are ready to request activation for the page you are working on.