Biography List
The biography list component is used to create a dynamic list of associate names that are clickable to a bio page for that associate. An author selects a root node (page) that is the parent for all bio pages. The component then iterates through all the child pages of the parent and creates a list using any of those child pages that have a full page biography component on them. The bio page itself is a shared content and uses the full page biography component. Here is an example of how a biography list might look.
Example
"Basic Bio List" view
Matthew W. Morris

Chief Executive Officer

Matt Morris serves as the chief executive officer of Stewart Information Services Corporation. As CEO, Morris focuses on enhancing growth and financial performance while preserving Stewart's culture of integrity and service to customers.

Jay Milligan

Chief Revenue Officer

Jay Milligan serves as Stewart's chief revenue officer. An accomplished leader with experience in strategic sales, market share and profitability, Milligan leads revenue-generating efforts throughout the enterprise.
"Executive Bio List" view
Author Dialog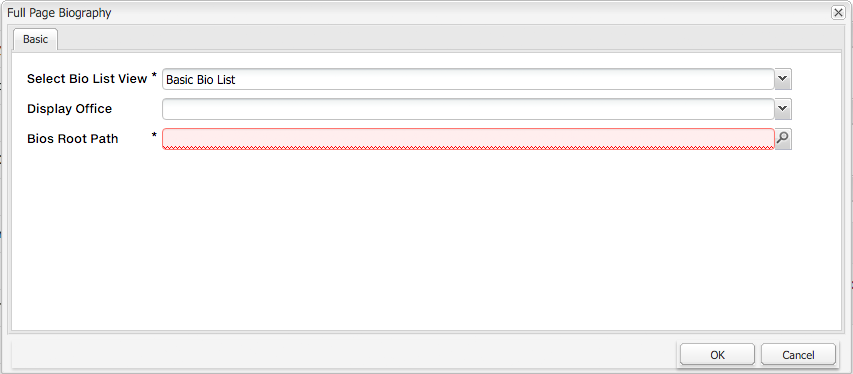 Display Office: If the "Basic Bio List" option is selected in the "Select Bio List View" box, a new option is added for "Display Office". This option adds a third column in the basic bio list view for "Office" and is populated with the city and state for the employee. This option is used by stewart.com admins and should not be used on any Stewart or Stewart Title microsite.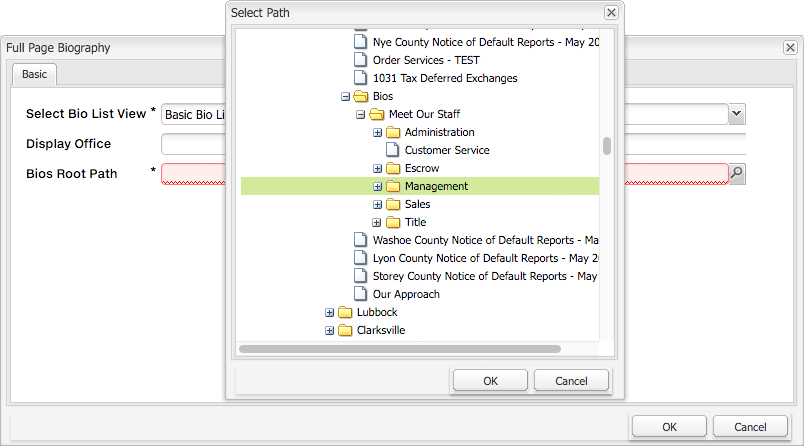 Bios Root Path: This pathfinder field defines the root node (page) that is the parent for all bio pages needed in a list. For instance, if a list of management staff is needed, an author would create a page in the local microsite labeled "Management" that is hidden from navigation. The author would then create child pages under "Management" for each person or bio. Each of those pages would reference the shared content bio page. When the "Management" page is supplied in the "Bios Root Path" option, the component creates a list out of all the child pages. In that list, all names are dynamically linked back to the local bio page, in the local microsite, that is referencing the shared content bio.