Button
The Button component allows an author to place a button or multiple buttons on a page to link to either another page in stewart.com, a file in the digital asset management (DAM) or an external website. Here are some visual examples of the different types of buttons we have.
Heads up: It is important to note that changes have been made to how we use buttons in the Stewart brand. You may see buttons being used differently than described here.
Examples
Primary
Usage
This button should ideally be used only once per page. Use this button when there is only one action you would like the user to take.
Tone: "I'm the most important thing on this page!"
Default and Call to Action (CTA)
Usage
These button types may be used for links, such as "Read More" or "Visit Site". These links are secondary to the main content or message and do not need to attract attention. The CTA is the preferred button type to use if you are unsure as to which one to use.
Tone: "I'm here if you need me but if you don't, thats ok."
Author Dialog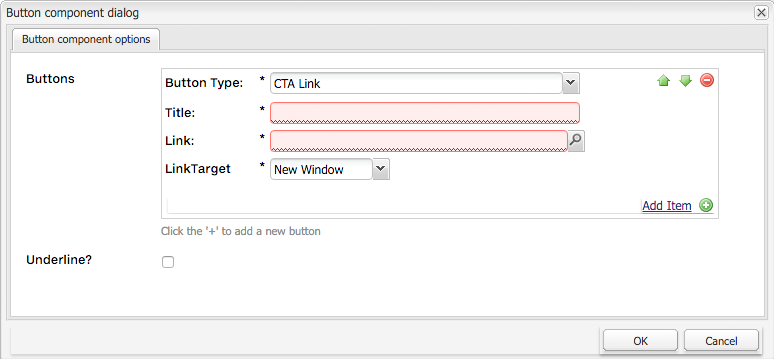 Title: This defines the text that gets placed inside the button.
Link: This is where we define the path (resource or file) or URL (web page). Clicking on the magnifying glass will open a pathfinder to allow you to find the page or asset (DAM) you wish to link to. Alternatley, you can provide a properly formatted URL which must include either "http://" or "https://" for linking to external websites.