List
The list component is used to create a dynamic list of news stories, press releases or events. The component basically works like this.
For News Stories or Press Releases – Both Use the Press Release Component
Point the component to the parent page for the press release pages you want to make a list out of.
The component then iterates through the child pages and generates a list of all pages that have a press release component and displays the title, date – if "Press Release" type is chosen – and makes the title clickable back to the page itself.
For Events
Point the component to the page that has an Event Container and at least one event component you want to make a list out of.
The component then iterates through the page and looks for an Event Container. Once found, a list is made of all the Events Components inside that Events Container. The component can then link back to the original Events page.
Examples
Press Release View
News View
Events View
NAR Annual/REALTORS® Conference & Expo


November 02 - 05, 2018
Boston Convention & Exhibition Center
Boston, MA

"Global Workforce Symposium Worldwide ERC®/National Relocation Conference"


October 17 - 19, 2018
Seattle Convention Center
Seattle, WA

"CREW Network Convention & Marketplace Commercial Real Estate Women"


October 17 - 19, 2018
Manchester Grand Hyatt
San Diego, CA
Author Dialog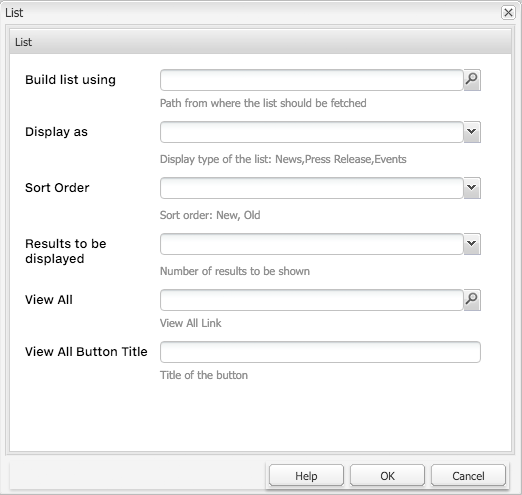 Build List Using: Select the parent page this component will use to build the list.
Display As: Select the view type you want for your list. Examples are above.
Sort Order: This lists the pages by newest or oldest.
Results to be Displayed: Number of results to be displayed in the list.
View All: Select the page that has a complete list of Press Releases or Events.
View All ButtonTitle: This is the label of the button that links to the page defined in "View All" above.