Thumbnails
The Thumbnails component allows an author to create a list of images. Thumbnails can be either 85px or 140px wide. Thumbnails can either link to another page or website or open a larger version of the image in a zoomed in format.
Note: When linking to the larger version of an image be sure to add the larger size to the Thumbnail component. The component will resize the image to one of the pre-defined sizes.
Examples
Standard 85 x 85 size
Larger 140 x 140 size
Thumbnails with labels
Author Dialog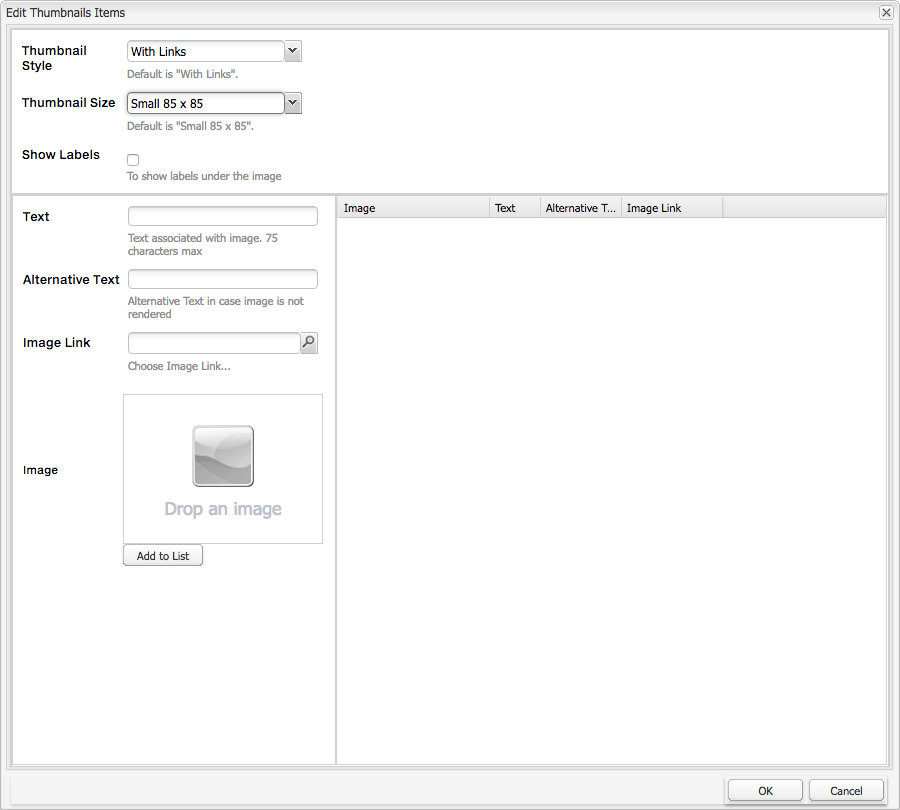 Thumbnail Style: Either "With ColorBox" or "With Links", ColorBox links the image to a larger version of the image. "With Links" allows the image to be clickable to another page or website.
Thumbnail Size: Either 85 x 85 or 140 x 140
Show Labels: Displays the value of the "Text" field beneath each thumbnail
Text: The text associated with the image, 75 characters max.
Alternative Text: Text used in the "alt" attribute of the image. This is used by people with visual impairments who use screen readers to browse the web.
Image Link: The location the image should be clickable, too. If ColorBox is selected, this link will not work.
Image: Drag the image from the content finder into this portion of the author dialog.
Updating Thumbnails
To update a thumbnail, follow these steps.
Right click an image in the list and select "Update". This will remove the image from the list and populate the left side of the dialog.
Make any required changes.
Click "Add to List" to put the image back in the list.