Overview
What do all these changes mean for home buyers and sellers?
The Consumer Financial Protection Bureau's whole purpose is to ensure that consumers get the information they need to make the financial decisions they believe are best for themselves and their families. As a title company, we can get behind that. Our whole purpose is to get you the information you need about the title of the property you're considering buying – and protecting your investment from unknown title issues that could come to light after you've invested.
The changes being brought about by the CFPB's proposed rule integrating mortgage disclosures, service provider bulletin, and the ability-to-repay/qualified mortgage rule should all turn out to be positives for you. Of course, as with any large-scale change, there will be a learning curve for both you and the companies you'll interact with in the new mortgage lending environment.
What does the TILA-RESPA Integrated Disclosure Rule Mean to Home Buyers?
Watch this short video to learn more about the TILA-RESPA Integrated Disclosure rule. Specifically this video covers what home buyers can expect with their transaction come October 3, how the new regulations are designed to make it easier for home buyers to understand the terms of a mortgage loan, compare loans from different lenders and more.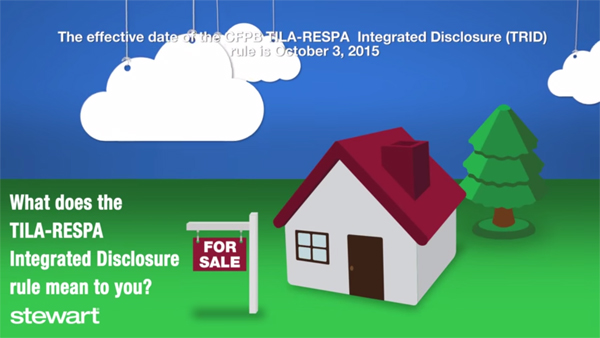 Sellers, buyers, borrowers, lenders and agents, attorneys, or employees of those persons – please confirm you are in compliance with your state DOI regulations before utilizing any resources, content or information from this site.