Stewart's secure email platform protects your non-public personal information.
In today's environment, it's more important than ever to keep your personal information safe and your identity secure – and with Stewart, it's getting even easier to do so. We're committed to continually improving our services to better protect our customers like you. To ensure the safety of your personal and non-public information, and in accordance with the latest industry regulations, Stewart will launch our new secure email platform through ZixCorp® on March 19, 2015.
How Secure Email Works
Encrypted emails sent out by Stewart associates are delivered through the new secure portal. Encrypted emails will still come from your Stewart contact's email address and will be easily recognizable, but it will now include a link to open the message. Simply click the "Open Message" button to log in to the secure portal and view the message and any attachments. Messages are stored in the secure portal for 120 days.
Registering and Logging In
When logging in to the secure portal for the first time, you will need to register for the Stewart Secure Email Portal by following simple instructions on the browser screen. If you are a Stewart Online™ or SureClose® user, you may use your existing credentials to log in.
Your personal information is just that – personal. Count on us to help you keep it that way.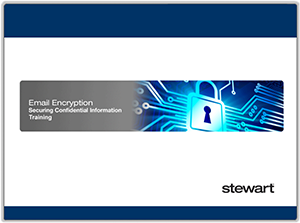 For more information, view the user guide or watch the demo video.
For additional assistance, please contact the Stewart Customer Care Center at (888) 526-3282 or customercare@stewart.com.
*Technologies provided by PropertyInfo Corporation.