e-Innovation takes root in progressive Texas town
Enterprising county clerk, credit union, real estate professional and Stewart Title use e-technology for same-day, fully electronic real estate closings and recordings in Lake Jackson, Texas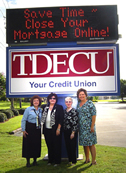 For the online press release showing this photo caption and a video of a sample eClosing held in Lake Jackson, click here.
HOUSTON (Oct. 9, 2007) – An innovative cast of individuals in a growing community of 27,000 just 50 miles south of Houston is quietly making history with same-day service in residential real estate closings and recordings.
A local real estate professional, lender and title agent all meet online via Stewart Title's SureClose® to complete residential real estate closings – allowing home buyers and sellers to receive their title policy, note and deed all on the same day as the purchase of their new home.
Stewart Title of Lake Jackson produces the title commitment and the closing documents using the AIM® title production system and SureClose. As the transaction manager, Stewart Title invites real estate agents such as Real Estate Plus broker/owner Donna Peiser, lenders such as Texas Dow Employees Credit Union (TDECU), and home buyers and sellers online to SureClose to see the status of the transaction.
"At Stewart Title we strive to provide the best possible closing experience by providing visibility of the process to all the parties, placing the accumulation of closing documents in a secure online-closing file and using our click-to-sign technology," said Stewart Morris Jr., president and chief executive officer, Stewart Title Co.
"We make the closing a celebration that is easy, fun and more understandable," added Morris.
In addition to SureClose, Stewart Title of Lake Jackson offers its customers the ability to close online using eClosingRoom™. Prior to the closing, buyers and sellers can go online at their convenience using their PC, and read and sign all their non-notarized closing documents in eClosingRoom. When they arrive at Stewart Title for the actual closing with the notary, e-signing the remaining documents takes about 17 minutes.
After closing, the closing package remains online and is submitted to the Brazoria County Clerk via Stewart's e-recording software.

"As long as I can close before 3 p.m., I can have the deed back before 5 p.m.," said Diane Ragsdale, branch manager, Stewart Title of Lake Jackson. "My customers are just blown away when I ask them at the closing table, 'Would you like your real estate agent to bring your deed by your home today, or would you like to come by and pick it up?'
"We are now able to offer same-day service, and our customers enjoy the process, too," said Ragsdale.
"We've been accepting e-recordings successfully for the past year," said Brazoria County Clerk Joyce Hudman. "For us, it has cut a four-step process down to one step. In addition, our filers know within 30 minutes whether their recording has been accepted or rejected and can make any corrections if necessary."
The crucial part of the equation was finding the lender who would be a part of the process. Stewart Title found that in TDECU, a financial entity with more than 100,000 members and nearly $1.2 billion in assets.
"I have an online mortgage application with a two-minute approval," said Loretta Williams, TDECU vice president of real estate lending. "Our members have the easiest access to their closing documents and can get with us prior to closing if they have any questions. People are busy and everything is moving toward electronic delivery.
"I am proud to be a major player in making mortgage loans in this area," said Williams. "We were proud to be chosen by Stewart to be their lender to partner on these totally electronic closings."
Donna Peiser operates her real estate business online through the use of SureClose. With SureClose, Peiser is able to provide her home buyers and sellers a new level of service with instant online access to status of the transaction.
Her office was one of the first in the area to use SureClose. "My buyers and sellers really like it and it makes it easier for me to get the deal done," said Peiser.
About Stewart
Stewart Title Co. and Stewart Title of Lake Jackson are wholly owned subsidiaries of Stewart Information Services Corp. (NYSE-STC), a customer-driven, technology-enabled, strategically competitive, real estate information, title insurance and transaction management company. Stewart provides title insurance and related information services required for settlement by the real estate and mortgage industries through more than 9,500 policy-issuing offices and agencies in the United States and international markets. Stewart also provides post-closing lender services, automated county clerk land records, property ownership mapping, geographic information systems, property information reports, flood certificates, document preparation, background checks and expertise in tax-deferred exchanges. More information can be found at http://www.stewart.com/.
###