Stewart Title makes deposit with Legacy Bank of Milwaukee to promote homeownership
One of the fastest-growing community banks in America will reach new heights in neighborhood redevelopment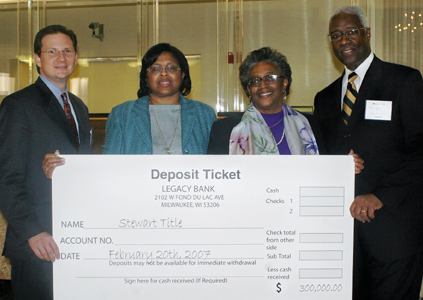 MILWAUKEE, (Feb. 22, 2007) – Stewart Title, a leading real estate information and transaction management company, has made a sizable deposit with Legacy Bank of Milwaukee. Legacy Bank, founded by three African-American women in 1999, is a part of Legacy Bancorp Inc.
In eight years of business, Legacy Bank has established itself as one of the fastest-growing community banks in America by building strategic partnerships with businesses such as Stewart Title that have the same goals and commitment to improve the community. The deposit will provide an opportunity for Legacy Bank to help minorities achieve the American dream of homeownership and commercial development.
"The significance of this deposit is tremendous," said the Rev. Larry S. Bullock, director of multicultural markets development for Stewart Title's MidAmerica region. "It marks the merging of two pioneers—an African-American-run bank, founded by three African-American women, that is working to revitalize its community and a family-managed company committed to developing new opportunities in multicultural markets."
Legacy Bank focuses on fostering economic development and providing local residents, often the unbankable, with opportunities to purchase a stake in their community through building neighborhoods, increasing homeownership and establishing small business. Legacy offers personalized banking services to individuals and entrepreneurs who are traditionally underserved by large banking institutions.
Nationally, African-Americans lag behind the national homeownership average and in Milwaukee, African-Americans have an even lower rate of homeownership. This is due to many unmitigated reasons, one being the denial of loan applications. Through this deposit, Stewart will work to bridge that gap and help increase homeownership and commercial development among African-Americans, which will help stabilize neighborhoods, making them stakeholders and accordingly becoming better contributors to their communities.
To commemorate the significant deposit, Matthew W. Morris, senior vice president of Stewart Title, David Silberman, president of Stewart Title of Wisconsin, and Bullock deposited the funds during a media luncheon event on Tuesday, Feb. 20 at 1 p.m. Legacy Bank CEO Deloris Sims and Vice President Margaret Henningsen hosted the event along with the Legacy Bank board of directors and invited guests, Mayor Tom Barrett, Alderman Willie Hines Jr., Norma Alexander Hart, president of the National Bankers Association, Congresswoman Gwen Moore and County Executive Scott Walker. The event took place in the lobby of Legacy Bank at 2102 West Fond du Lac Avenue, Milwaukee.
"This is the beginning of a relationship with Legacy Bank, our growing community and Stewart Title," said Sims. "More than a deposit, this is an investment in a relationship. The leverage-power of this deposit will allow us to help our customers meet their financial needs while helping them to achieve their financial goals."
Bullock works tirelessly to educate minorities on homeownership and wealth accumulation and bringing forth new opportunities in multicultural communities. In 2005, Stewart made a significant deposit with Citizens Bank of Nashville. This served as the model for many new alliances.
About Stewart
Stewart Title is a wholly owned subsidiary of Stewart Information Services Corporation (NYSE-STC ), a customer-oriented, technology-driven, strategically competitive, real estate information and transaction management company. Stewart provides title insurance and related information services required for settlement by the real estate and mortgage industries through more than 9,500 policy-issuing offices and agencies in the United States and international markets. Stewart also provides post-closing lender services, automated county clerk land records, property ownership mapping, geographic information systems, property information reports, flood certificates, document preparation, background checks and expertise in tax-deferred exchanges. More information can be found at http://www.stewart.com/
###