American Land Title Association Names Houston Executive to Board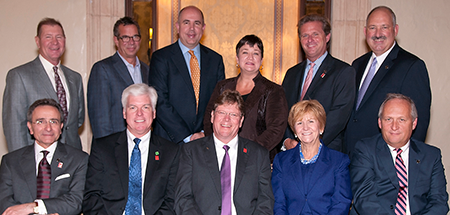 Washington, D.C., (October 24, 2013) — The American Land Title Association (ALTA), the national trade association of the land title insurance industry, announced that Stewart Morris Jr. has been appointed to its Board of Governors for the 2013-2014 year.
Morris Jr., who has nearly 40 years of industry experience, is vice chairman of Stewart Information Services Corp.
"I am excited to collaborate with the entire board to promote the many ways in which the title industry meets the needs and interests of homeowners," Morris said. "It is an honor to serve on the board of an association committed to explaining the value of title insurance, and I look forward to working on the many challenges that lay ahead for our industry."
The 11-member ALTA Board of Governors is responsible for creating association policy, managing the financial health of the association and ensuring the overall welfare of the association.
Morris previously served as president and co-CEO of Stewart Information Services and president of Stewart Title, which he joined in 1973. Morris was elected vice president of Stewart Title in 1975, and was named president of Stewart Title and chairman of Stewart Title Guaranty Co. in 1991. Under the direction of Morris, Stewart has become a real estate information industry leader in technology for productivity and e-commerce as well as a host of settlement services needed to close real estate transactions.
"Stewart's knowledge, experience and skills will be vital to our efforts to promote the importance of the title industry," said Michelle Korsmo, chief executive officer of ALTA. "We are fortunate to have someone with Stewart's unique perspective and proven dedication on our board to help guide ALTA's strategic vision and goals."
Morris graduated with a Bachelor of Arts degree from Rice University in 1971 and received a Master of Business Administration from the University of Texas in 1973.
Members of ALTA's 2013-2014 Board of Governors are:
President: Rob Chapman (Minneapolis, Minnesota)
President-Elect: Diane Evans (Denver, Colorado)
Treasurer: Peter Birnbaum (Chicago, Illinois)
Chair of Finance Committee: Bill Burding (Santa Ana, California)
Agents Section Chair: Dan Mennenoh (Galena, Illinois)
Agents Section Representative: Cynthia Blair (Columbia, South Carolina)
Agents Section Representative: Brian Pitman (Austin, Texas)
Underwriters Section Chair: John Hollenbeck (Santa Ana, California)
Underwriters Section Representative: Steven Day (Jacksonville, Florida)
Underwriters Section Representative: Stewart Morris Jr. (Houston, Texas)
Immediate Past President: Frank Pellegrini (Oak Park, Illinois)
About ALTA
The American Land Title Association, founded in 1907, is a national trade association representing more than 4,700 title insurance companies, title agents, independent abstracters, title searchers, and attorneys. ALTA members conduct title searches, examinations, closings, and issue title insurance that protects real property owners and mortgage lenders against losses from defects in titles.
###