Stewart in the Community
Relocation Team Gives Hope to the Homeless
Posted on May 26, 2016
The Worldwide ERC Americas Mobility Conference did more than bring workforce mobility experts together in Houston – the Stewart Relocation team joined forces with partner Plus Relocation for an afternoon of giving. More than 40 volunteers spent half a day assembling nearly 5,000 hygiene kits, benefitting the Star of Hope Mission Women and Family emergency shelter
Minneapolis-based Plus Relocation has sponsored similar volunteer events in each conference city since the spring of 2011, all to help local organizations and residents. Stewart inspired the selection of Star of Hope, helping to make an impact on Houston as the host city.
Star of Hope Mission is dedicated to meeting the needs of homeless people by providing shelter, food and clothing, and structured programs which focus on spiritual growth, education, employment, life management and recovery from substance abuse for more than a century. Volunteers toured the downtown facility, home to about 1,000 homeless adults and children each day.
For more than 55 years, Carloss Morris, grandfather of CEO Matt Morris, gave tirelessly to Star of Hope. In 2000, the Men's Development Center – a shelter for homeless men committed to changing their lives through spiritual and educational counseling – was dedicated in honor of Carloss and his wife Doris.
Procurement Supplies Area Elementary Students
Posted on May 20, 2016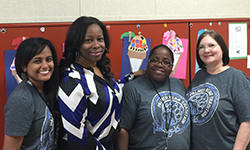 Stewart's Procurement department gathered office supplies as a gift to Palmer Elementary in Missouri City, TX. Purchasing Analyst Valencia Hudson (second from left) is pictured with (L-R) teachers Sharon Abraham and Adriane Hudson, and Asst. Principal Glena Bailey.
Team Stewart Rides Again: 2016 BP MS 150
Posted on May 2, 2016
Stormy weather didn't dampen Team Stewart's spirits on Saturday, April 16. That's when our 19 cyclists made the annual journey to support multiple sclerosis (MS) research and treatment in the BP MS 150.
The BP MS 150 – under normal conditions, a two-day, 180-mile journey from Houston to Austin, TX – is the single largest fundraiser for MS in the world. Due to the inclement conditions, more than 11,000 cyclists from around the world had the option of a 100-mile or 75-mile route from Houston to La Grange, Texas.
Team Stewart Riders
To prepare for the ride, the 19 members of Team Stewart* trained for months with volunteer-supported group rides on the weekends. Participating cyclists had experience levels ranging from casual riders to triathlon competitors. "Some of us are athletes, but you don't have to be one to take on this challenge," says Kelly Hawkins, Director of Community and Customer Relations. "What we share is a heart for helping MS patients and their families."
Columbus, OH Build-A-Bike Event
Posted on April 29, 2016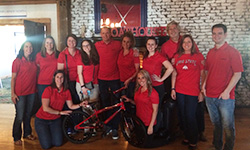 The Stewart Title retail team in Columbus, OH volunteered to support the Columbus Mortgage Banker Assocation's Build-A-Bike event. Employees built and donated bikes to children from the Boys and Girls Clubs® of Columbus.
Donating Books to Ronald McDonald House San Antonio
Posted on April 22, 2016
On April 20, team members from PropertyInfo® Corporation delivered donated books to the Ronald McDonald House in San Antonio. The staff was very appreciative and welcoming, and gave associates a tour of the house.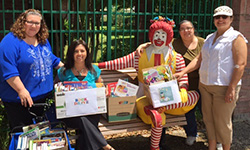 "It was uplifting to hear about all the wonderful things they do for the children and their families," said Connie Garcia, Operations Manager, PropertyInfo. "It's also interesting to see how the house is set up to accommodate various families as a group and still have some privacy for each family, especially in the kitchen. Very impressive!"
Stewart Title Alice Texas sponsors School Supply Drive
Posted on August 26, 2015
Stewart Title's Texas border division hosted its Annual Customer Appreciation Luncheon with "Back 2 School" theme. This year's event incorporated a School Supply Drive to support the local community school children in dire need of school supplies. "We collected hundreds of pounds of supplies during a two week period", says Yolanda Sciaraffa, sales manager. "It was wonderful to be able to partner with customers and members of our community to make our community a better place to live."
All supplies will be donated to the School District for distribution. The drive was such a success that Stewart plans to make this an annual event.
Photo courtesy of Russel Gruber - Alice Echo News Journal
Pictured: Kneeling L to R: Monica Martinez and Kathy Guzman; Standing L to R: Jesus Padilla, Yolanda Sciaraffa, Yvonne Chapa, Amanda Carrillo, Frances Adams, Gay Lynn Storm, Teri Garza, Anna Saenz, Margie Arce and John Vachala
Another Home for a Las Vegas Hero
Posted on August 14, 2015
In July, the Las Vegas Division helped deliver a dream to Army Staff Sgt. (Ret.) Joe Gutierrez, his wife and two daughters: a new home, mortgage free. Gutierrez honorably served three tours of duty in the Army before medically retiring in 2013. Stewart worked with Building Homes for Heroes to provide the home.
Habit for Humanity honors Stewart Title of Laredo
Posted on July 27, 2015
Habit for Humanity honors Stewart Title of Laredo, Community Partner of the Decade for its dedication of the mission of bringing simple, decent and affordable housing to hard working families in Laredo. "It's because of the generosities of companies like Stewart Title that makes it possible for us to serve the needs of families here in Laredo" saide Carol Sherwood, executive director for Habitat.
Habit for Humanity honors Stewart Title of Laredo
Posted on July 27, 2015
Stewart Title of Lubbock hosted the West Texas Home Builders Luncheon in April, with Bud Moscony, Vice President, National Development & Homebuilder Relations, as guest speaker. Through their recent efforts, the Lubbock Division raised $3,500 in support of Lubbock Homes for Heroes, which builds specially adapted homes for wounded military veterans.
Business Development Officer David Pritchett (left) presented a check to Larry Driskill, Lubbock Homes for Heroes President.
Texas Tech To Have Several Giveaways On Saturday
Posted on January 26, 2015
Texas Tech To Have Several Giveaways On SaturdayTexas Tech looks to set a world record for the largest gathering of fans wearing a mask in a basketball arena, as Stewart Title has provided Masked Rider masks to the first 5,000 fans. Read more.
Portsmouth, NH BDO Named Local Affiliate of the Year
Posted on July 10, 2013
Darlene Penta, Business Development Officer – Portsmouth, NH, was chosen Affiliate of the Year by the Strafford County Board of REALTORS®. Darlene is very active on the board, providing educational opportunities for REALTOR® and Affiliate members, as well as giving of her time in fundraising efforts.
Anchorage, AK Associates Paint the Town Again
Posted on July 10, 2013
Stewart's Anchorage office enjoyed a day of fun and hard work as they joined in a local Paint the Town service event for the eighth year in a row. The project is designed to be a community-based program, providing services such as exterior painting, roofing and more for single parents, veterans, seniors, people with disabilities and other homeowners in need.
Paint the Town is a project of NeighborWorks®, a national network of community development organizations.
Sherry Smith Receives Rotary Award
Posted on July 10, 2013
In recent years, the Montgomery County Food Bank has received a total of nearly $22,000 in support from local Rotary Club members. Business Development Officer Sherry Smith of The Woodlands, TX was instrumental in these efforts, holding four themed fundraisers per year – each of which met their goal for contributions. Sherry also organized Rotarians to volunteer for twice-a-year Saturday work days at the Food Bank.
In recognition of her contributions, the Rotary Club of The Woodlands recently presented Sherry with the Service Above Self award, Rotary International's highest honor for individuals. Fewer than 150 of the organization's 1.2 million members worldwide receive this award each year.
"My team and I made it so much fun to raise money, and I loved doing it," Sherry says. "I was surprised and overwhelmed to receive the award. I couldn't even speak!"
"Sherry has worked tirelessly for the Food Bank, and raised over half the funds herself," says Lee Person, Division President – ST of Montgomery County. "She is committed to serving our community, and we are truly fortunate to have her as part of our team."
Stewart Gives Back Through Habitat for Humanity
Posted on June 16, 2011
Stewart's National Title Services team recently had the privilege to give back to the New Orleans community and support the valuable work being done by Habitat for Humanity. In conjunction with the 2011 Real Living annual convention (formerly known as GMAC Real Estate), special arrangements were made for Stewart to donate newly purchased furniture used in our exhibit space to those in need following the show.
This innovative approach, spearheaded by Susan Wilkins, VP Strategic Alliance Manager, supported our company's important community service initiatives while also saving money as compared to renting booth furnishings. In addition, the donation afforded the local Stewart office an opportunity to grow their relationship with Habitat for Humanity.
The success of the Real Living event, coupled with the ability to make a difference in the still recovering New Orleans community, made this a win for all!
Stewart Title associates pedal for a cure in 2011 BP MS 150 Ride from Houston to Austin
Posted on June 1, 2011
For the 27th year, cyclists from across the country saddled up for the annual trek from Houston to Austin in the 2011 BP MS 150 on April 16 - 17 in support of the National Multiple Sclerosis Society. Stewart Title is proud to recognize some of our Stewart associates among the 13,000 participating riders: James Allen, Victor Davis, Michael Grant, Bob Greenberg, Matt Morris, William Pratt, David Sallen, and John Arcidiacono. Also volunteering for the ride were Carolina Cervantes, Priya Swamy, Michelle Mendiola, and Vicki Garza, along with their family members and friends.
Stewart had 12 associates, family and friends riding with Team Hope in the 180-mile ride from Houston to Austin, raising more than $12,000 from Stewart cyclists alone. Team Hope in total has raised more than $53,000 to date in the fight against MS. Stewart volunteers not only assisted with Team Hope, but also teams from the University of Texas, MD Anderson Cancer Center and Academy, to name a few.
These employees mirror our Stewart values by showing their commitment to the cause, and Stewart's efforts were recognized throughout the many organizations participating in the charitable event. We look forward to continuing our support of the National Multiple Sclerosis Society for many years to come. To learn more about Stewart in the Community or to submit your Stewart Title community activities to be posted on Stewart.com, contact mediarelations@stewart.com.
PropertyInfo employees rock and roll in the Nashville Country Music Half Marathon
Posted on March 22, 2011
PropertyInfo employees recently participated in the Nashville Country Music Half Marathon on Saturday, April 30. The Country Music Marathon & Half Marathon welcomes more than 30,000 participants each year in a running tour of the historic Music City.
Representing PropertyInfo this year in the 13.1 mile race through downtown Nashville were fellow associates Beth Young, Vikki Bachman, Jennifer Dumas, Cathy Castillo, Janis Echevarria, Alison Borchardt, Pam Rudder, Shanita Johnson, Molly Dillingham, Brian Reed and Jeff Davis.
Our associates raced through Nashville and enjoyed some of the city's famous music sites, while enjoying the tunes of local bands playing on 28 stages throughout the course.
The half-marathon was an amazing day full of running, music and excitement. Congrats to all of the PIC team members on their rock and run through Nashville!
Stewart Title Supports the Houston Livestock Show and Rodeo through Volunteerism
Posted on March 15, 2011
Associates invest their personal time to help the kids
Anyone from Houston knows that the Houston Livestock Show & Rodeo is a big Texas tradition. What most do not know though is that the rodeo awards students from Houston and throughout Texas millions of dollars in scholarships each year feel, and could not be made possible without the help of more than 24,000 volunteers – making up more than 100 different committees.
Since its beginning in 1932, the Houston Livestock Show and Rodeo has committed more than $265 million to scholarships, research, endowments, calf scramble participants, junior show exhibitors, the Rodeo Institute for Teacher Excellence™, School Art participants, and other educational and youth programs. Stewart Title associates from Stewart Title of Houston, Multinational, PropertyInfo Corporation, Stewart Professional Solutions Marketing and IT divisions help make up these numbers, and lend their hands and time to help make this event possible.
E.D. Lester, group senior vice president of New Mexico, South and Central Texas for Stewart Title, has been a life member of the HLSR since 1983. "Being able to give back to our community is a huge commitment to me. Not only are we serving the Houston and surrounding area, but by being the largest contributor of scholarships to colleges and universities in Texas we are insuring the future of Texas," said Lester.
"One of my most favorite times at the rodeo is spent serving as one of the "Cowboys" for the Lil Rustler's Rodeo, where we bring in handicapped children for a fun-filled event and get to spend some real time with them in the arena. They all leave with a new hat, HLSR scarf, huge trophy and a very nice HLSR belt buckle. We truly change their lives for one evening," Lester continues. Lester has a long-time history with the rodeo having been elected director in 2003, and was elected to serve three-year term as a vice president of the show in 2010. Lester is also the current officer in charge of the following committees: Western Heritage Community Challenge Committee, Houston General Go Texan Committee, All Breeds Commercial Sales Committee, Junior Commercial Steer Feeding and Management Committee, and also serves as a member of the Quarter Horse Committee and the Grand Entry Committee.
Mitch Creekmore, senior vice president Multinational Title Services Group of Stewart Title Guaranty Company, has volunteered for the past 16 years, and currently participates in the International Committee, made up of more than 500 members. This committee is one of the oldest and prestigious committees at the rodeo. Creekmore works as a liaison and welcomes all of the international guests of the rodeo. In 2011, they have had 2200 guests from more than 62 countries. Guests have come from Canada, South and Central America, Mexico, Great Britain, New Zealand, Poland and more.
"As a member of the International committee, I have the opportunity to bring Western heritage to many of Stewart's international customers and prospective clients," said Mitch Creekmore. "This committee hosts the international salon, and provides a hospitality suite for international guests to come each day and relax, as well as a visit to the George Ranch to view exhibits, participate in a dance, and hear Texas A&M professors speak on topics such as animal husbandry."
Other Stewart volunteers include:
Ronny Brehm, Corral Club Division III – Club Level West – 1st year
Barbara Chavez – Transportation Committee – 1st year
Craig Corkill, Corral Club Division III – Club Level West Team C Captain 2008 – 2010 – 9th year
Jennie Craig, Corral Club Division III – Club Level West – 4th year
Brian Gomez, Trail Ride Committee – 4th year
Mary Alice Gonzales – Lifetime member
Monique Grimes – Cy-Fair Metro Go Texan Committee – 14th year
Patte Ivie – Lifetime member, Junior Market Lamb and Goat Committee – 22nd year, Directions and Assistance Committee – 3rd year and School Art Auction – 10th year
Kim McCall – Lifetime member
LaMarcus McCray, Corral Club Division III – Club Level West – 10th year
Julie Nollkamper – Rodeo Express – 2nd year
Lauren Shields – Judging Contest Committee – 1st year
Cheryl Singleton – Transportation Committees – 8th year, Rodeo Uncorked Wine Committee – 2nd year and LIPS Buyer's Group
David Stutts – Ticket Services Committee – 1st year
John Vachala – Judging Contest Committee – 11th year
Kristin Wernecke – Directions and Assistance Committee – 2nd year
Rhonda Trail Wood – World Championship BBQ Committee – 16th year
"It is always exciting to see the visitors and our fellow volunteers come rodeo time. You never know who you might meet each day as you volunteer – from a proud parent of one of the calf scramblers to excited children waiting for their favorite icon to start their performances," said Jennie Craig, vice president marketing programs and media relations for Stewart. "This year as I was walking through the school art exhibit, I came across a lifelong cowboy with tears rolling down his face. Turns out he posed for an art class and the child who drew his picture won grand champion and another won second place. He was tremendously honored, and it was heartwarming to hear his story and to see how he had helped to change someone's life."
Through the course of a year, volunteers donate an average of 67.7 hours of service to the Show. This includes year-round efforts such as raising money for scholarships, planning and organizing events, holding Go Texan contests, speaking to groups about the Show, working with auction buyers, setting up facilities and much more. Please join us in thanking our associates for their participation in the Houston community. To find out more about volunteering, visit www.hlsr.com. To learn more about Stewart in the Community or to submit your Stewart Title community activities to be posted on Stewart.com, contact mediarelations@stewart.com.
Community Service in Lubbock
Posted on February 25, 2011
As part of the Stewart Title of Lubbock Associates Meeting on February 21, the company decided to include some community service. After lunch, the team went to the Breedlove Dehydration Plant (http://www.breedlove.org) to assemble hygiene kits. Breedlove is in the Guinness Book of World Records as the largest dehydration plant in the world. The dehydrated food is sent all over the world and they recently have added the hygiene kits to be sent with the food. After a tour of the plant, the associates were ready to go to work. It was a great team effort as they formed two assembly lines to assemble the kits, which consisted of a toothbrush, toothpaste, bar of soap, shampoo and a feminine hygiene pad. The bags were hermitically sealed and ready to be shipped. The associates were all greatly rewarded with the satisfaction of giving a part of ourselves back to our community to help others around the world.
PropertyInfo Associate Profiled for her Support of the Houston Livestock Show and Rodeo Education Fund
Back in 1991, Janis Echeverria, an associate in the technology department of PropertyInfo Corp., was a struggling single mom who wanted to attend college. After a high school guidance counselor suggested she apply, Echeverria received a $1000 scholarship from the Houston Livestock Show and Rodeo (HLSR) Education Fund. Because of that scholarship, Echeverria kicked off her pursuit of a higher education and in 1998, graduated from the University of Houston-Downtown with a bachelor's degree in business administration/computer information systems.
This weekend, Echeverria is participating in the 2011 ConocoPhillips Rodeo Run, which supports the HLSR Education Fund. She holds the HLSR in high regard, and said in a February 24 article in the Houston Chronicle, "I feel special, and I feel honored. It's a great organization, and I wish more people would run so there would be more money to go to something good," she said.
Congratulations to Janis!