Stewart Online
At Stewart, you are not just another real estate transaction; you are important to us, and we want this to be a magnificent closing experience. As a Stewart Title customer you have complimentary, secure access to your real estate transactions via Stewart Online, powered by SureClose®. From here you will be able to stay on top of your real estate transactions. Simply log in anytime, anywhere you have Internet access, 24/7.
From the My Transactions section of Stewart Online, users receive real-time status updates related to their transaction and have the ability to view tasks, review documents, communicate with designated transaction parties, and access contacts and other relevant information regarding their closing. The Stewart Online Resources section offers users a wealth of educational materials tailored to their role in the closing process. The transaction overview, for example, explains what to expect at the closing, steps in the title and escrow process, and provides a description of Stewart's Title policy coverage.
Stewart Online is available to Stewart Title customers today. For more information on Stewart Online, visit http://www.stewart.com/online. View your transactions today.
The Stewart Online technology is provided by PropertyInfo Corporation, a Stewart company. Services may vary from state to state. PropertyInfo develops, supports, and distributes technology for the real estate industry.

Check out the Stewart Online iPhone app!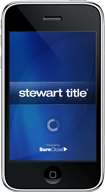 With this iPhone app it's easy for you to stay on top of your real estate transactions without chaining yourself to a desk.
The Stewart Online iPhone app provides an eco-friendly means of staying in constant communication with other parties to the transaction by giving you mobile access to a convenient, online collaborative environment between you and your Stewart Title office.
Quickly and easily access the information necessary to stay up to date on the status of your closings. With this app you can:
View a list of current files with Stewart Title

See a summary of each transaction

View and share documents via email

See updates on your transaction and check task status

Keep in touch with contacts in each file

Keep clients apprised of their transaction's status by having them use the app