Melanie McDonald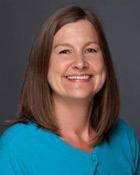 Claims Coordinator
Office: (803) 765-1631
Fax: (803) 753-9205
Toll-Free: (800) 327-3596
3600 Forest Drive,
Suite 102
Columbia, SC 29204
With a strong background on the foreclosure side of the industry, Melanie McDonald is no stranger to working in real estate. Before joining Stewart in 2007, she spent five years as a foreclosure paralegal at Finkel Law Firm and one year at Scott Law Firm as a foreclosure paralegal and an assistant office manager. In these roles, Melanie filed pleadings, hearing packages and title claims on behalf of lenders.
Today, as a claims coordinator, Melanie specializes in assessing situations that could result in claims issues. In addition, she enjoys being a team player and is committed to keeping everything organized to ensure the office runs smoothly.
Melanie earned her B.A. in history and english from the University of South Carolina.
When she's not working, Melanie likes to travel, hike, kayak and read. She also enjoys spending time with her husband Andy, son Thurston and two dogs, Rusty and Lucy.