We're Your Florida Underwriter
Our site may look and feel different, but our commitment to you is still the same. Whether it's through our underwriting expertise, innovations that enhance the experience for both you and your customers or the solutions we create to meet your needs – everyone at Stewart Title Agency Services in Florida works in the true spirit of partnership to help you achieve your goals and grow your business.
Stewart Trusted Providers™ are the best of the best, so we always strive to provide the best service – responding quickly to meet your needs and to make it easy for you to work with us. And you can rest assured, that with Stewart Title Guaranty Company as your underwriter, we have the financial strength to get your largest commercial and residential deals done.
Stewart Trusted Providers
The Stewart Trusted Provider seal validates the high quality standards our title agencies and attorney agents have met to be a Stewart agent.
Education and Training
Stewart Title Agency Services gives Trusted Providers valuable training to help you succeed.
Agent of the Month
ACES Title Agency
At ACES Title Agency, we're unapologetically obsessed with meeting our client's goals and exceeding their expectations. From our first discussion, our clients find we're completely focused on their real estate transaction, as our passion is their advantage. Our office is open, collaborative and as paperless as possible. We enthusiastically employ new technology to keep transactions moving forward without miscommunications and distractions from the goal at hand. We have a large number of licensed title agents and know how to connect with our clients and other professionals involved in the transaction to work towards faster answers and easier resolution of problems. As a Stewart Title Guaranty Agency, we take compliance to industry rules and standards very seriously, having adopted all measures necessary to meet CFPB and ALTA best practices. All of these concepts allows us to ensure our clients receive the best possible closing experience.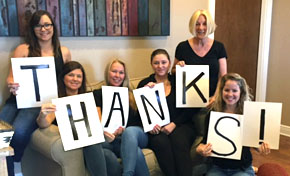 Names left to right: JD Pryor, Mary Pacifico, Aramys Espinosa, Eleni Pantaridis, Dave Sommers, Rachel Dugan, Marci Nowak, Tom Melega, Rafael Morales, Isabelle St-Denis, Sossy Kochkerian, Joanne Kretzschmar, Marlie Andre, Mark Dziatkiewicz