Dave Fauth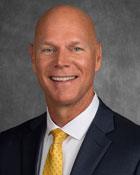 Group President
Dave Fauth serves as Group President, responsible for direct operations, as well as title and escrow fulfillment services. In this role, he oversees the company's direct retail operations throughout the U.S., and the title and escrow fulfillment services supporting our local residential operations.
Under Fauth's direction, our retail locations focus on serving customers to lead the title industry and achieve profitability and growth. Working with direct operations leaders, Stewart's local offices deliver accurate and timely search, examination and other services for internal and external customers in the real estate closing process.
In addition, Fauth is responsible for leading a redesign of processes and technology to improve revenue and market share, facilitate regulatory compliance, and offer greater adaptability to changing customer requirements through our fulfillment service centers.
Fauth's more than 30 years of title industry experience include sales, escrow, and production. A Stewart associate since 1985, he was previously group senior vice president, overseeing direct operations in the Midwest, Mid-Atlantic and Northeast; group vice president – Midwest states; Minnesota state manager; Minnesota division president; and Oregon division president. Fauth graduated from Bethel University with a Bachelor of Arts in business administration and a minor in economics.