Rob Concepcion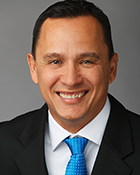 Vice President – Commercial Services Business Development Officer Sr.
Office: (800) 729-1900
1360 Post Oak Blvd., Suite 100
Houston, TX 77056
Prior to joining Stewart Title, Concepcion was a Real Estate Advisor with Sempra U.S. Gas & Power. With 7 years of experience in the renewable industry, he was the lead real estate professional responsible for Greenfield project development along with acquisition of wind, solar, geothermal and hydro projects throughout the U.S.
Before his venture in renewable energy, Concepcion worked in the real estate and title insurance industry for 16 years as a Title Officer. This role provided strategic and technical guidance to clients regarding real estate issues while insuring various types of land transactions.
Concepcion earned his Bachelors of Business from San Diego State University. He also served as an Armor Officer in the U.S. Army and California National Guard.