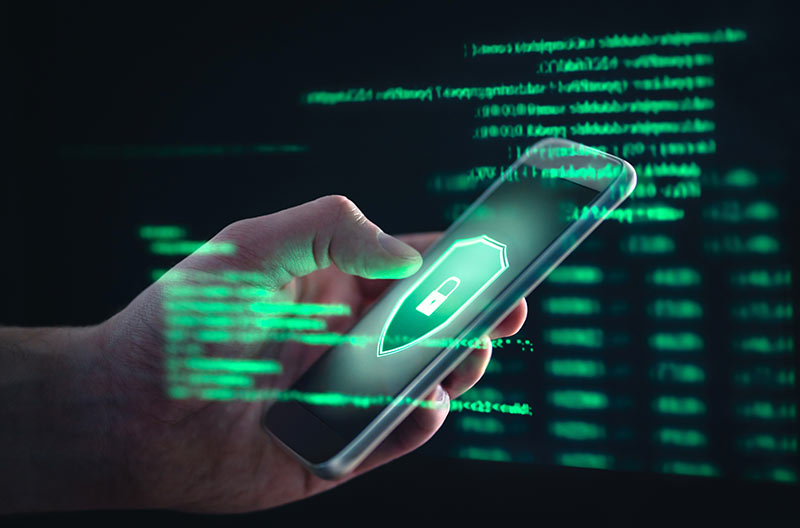 2020, the Year of the Pandemic, could also be named the Year of Fraud, Identify Theft & Scams.  The FBI reported a dazing $1.8 trillion of wire fraud losses they define as Business Email Compromise.  The typical loss for wire fraud was $100,000 per incidence.
Excluding wire fraud, consumers lost an astounding $13 billion last year in traditional identity fraud based on a study by Javelin Strategy and Research.  In this type of crime consumers typically have no idea how their identity was stolen as the fraudsters often employed institutional-level attacks.  In addition $43 billion was lost to identity fraud scams – where criminals directly contact and ensnare their victims.  Consumers can often recall the moment when they interacted with the criminal through a text, telephone call or email.
Where identity theft takes place is as varied as local economies across the country.  As usual the TINSTAANREM Axiom is invoked — There Is No Such Thing As A National Real Estate Market or economy.   The same holds true for identity-theft related crimes from one state to the next.  Some states are more prone than others.  24/7 Wall Street completed a study using data with state-specific information from the Federal Trade Commission's Consumer Sentinel Network Data Book.  The FTC report takes complaints from consumers about problems they experience in the marketplace.  Wire fraud is not included in this subset of data.
The most typical identity theft in 2020 involved people applying fraudulently for government benefits with 400,000 reporting such a crime.  That was an explosive 3,000 percent gain from 2019.  Fueling this was the proliferation of government loans and benefits uniquely available because of the pandemic no doubt.
Americans lost $3.3 billion in 2020 as reported by the FTC.  Almost 40,000 Americans reported a loss of $10,000 or more though most reporting a fraud did not lose any money.  Still one-in-three lost an average $311.  Average losses, however, varied with respect to age as follows:
$326 Aged 20 to 29
$650 Aged 70 to 79
$1,300 Aged 80+
States are ranked in the table by number of identity thefts per 100,000 population allowing an apples-to-apples comparison across states with differing populations.  Three states exceed 1,000 identity theft crimes per 100,000:  Kansas (1,483), Rhode Island (1,191) and Illinois (1,066).  Only two states reported less than 100 identity thefts per 100,000 people: South Dakota with just 72 and Iowa at 96.    Greatest average loss was in Alaska at $500 and least in at $205 in West Virginia.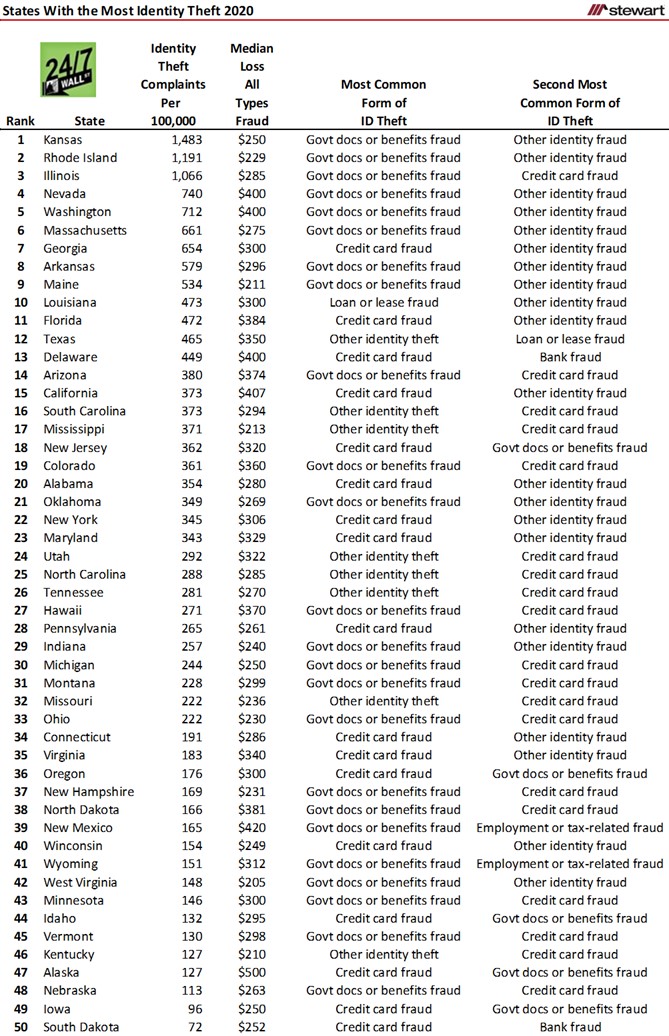 To read the Javelin Strategy and Research report click 2021 Identity Fraud Study: Shifting Angles | Javelin (javelinstrategy.com)
Access the 24/7 Wall Street report at  States With the Most Identity Theft – 24/7 Wall St. (247wallst.com)
The FTC summary table can be viewed at https://public.tableau.com/app/profile/federal.trade.commission/viz/ConsumerSentinel/Infographic
To protect yourself or clients from wire fraud and to see what Stewart is doing to help read the following:
https://blog.stewart.com/stewart/2021/06/22/wire-fraud-101-what-is-wire-fraud-and-how-do-you-prevent-it/
https://www.stewart.com/en/media/press-releases/2020/stewart-partners-with-certifid-to-help-eliminate-wire-fraud.html
No doubt as more transactions, financial activity and banking heads to the Web, these crimes will only increase.  Consumers cannot be too diligent in phone calls, texts and emails.  And always follow your title company's rules on wire transfers.
Ted