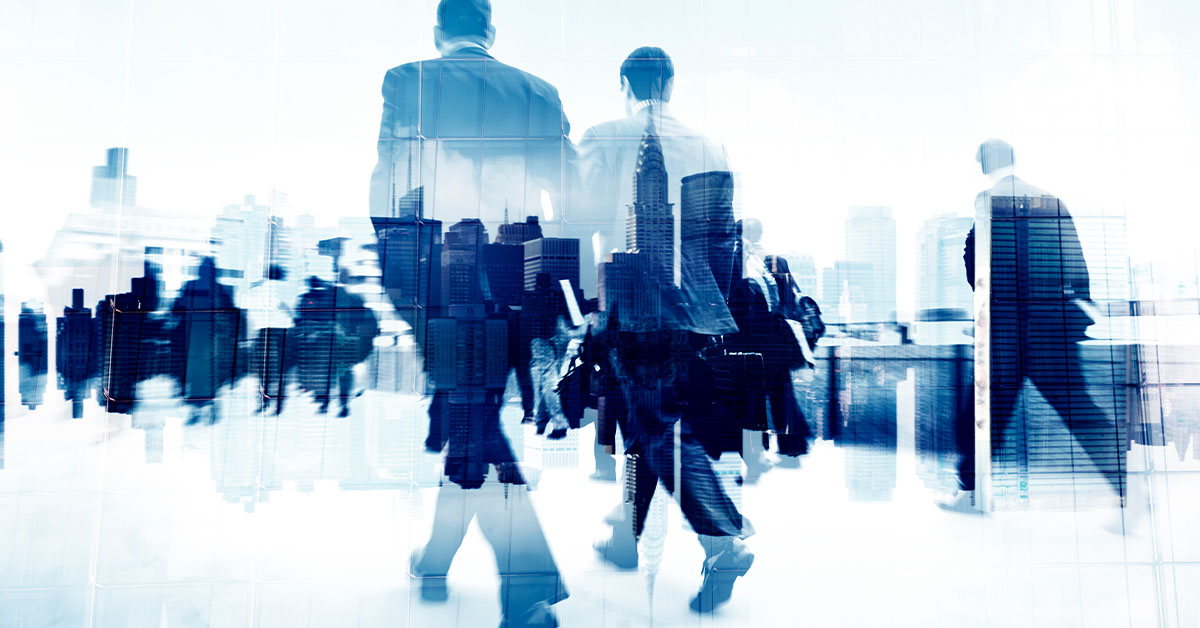 November saw one-more state -- New Hampshire -- return to job numbers seen in February 2020, the month prior to the pandemic according to data released today from the U.S. Bureau of Labor Statistics (BLS). Just as states lost differing percentages of jobs in March and April 2020, the recovery rate varies across the economic landscape. All data discussed are seasonally adjusted data allowing comparison across all months.
As of November 2022, the BLS data show 26 states with as many or more jobs than any time in history. The first table shows the percentage change in jobs from February 2020 (the month prior to the pandemic) compared to November 2022 sorted by relative recovery rates. Also included is the District of Columbia. Idaho and Utah lead job growth rates since February 2020 posting gains of 6.9 percent and 6.6 percent, respectively. Least recovered since the pandemic include Hawaii down 6.5 percent, Vermont -4.3 percent, and the District of Columbia -4.1 percent.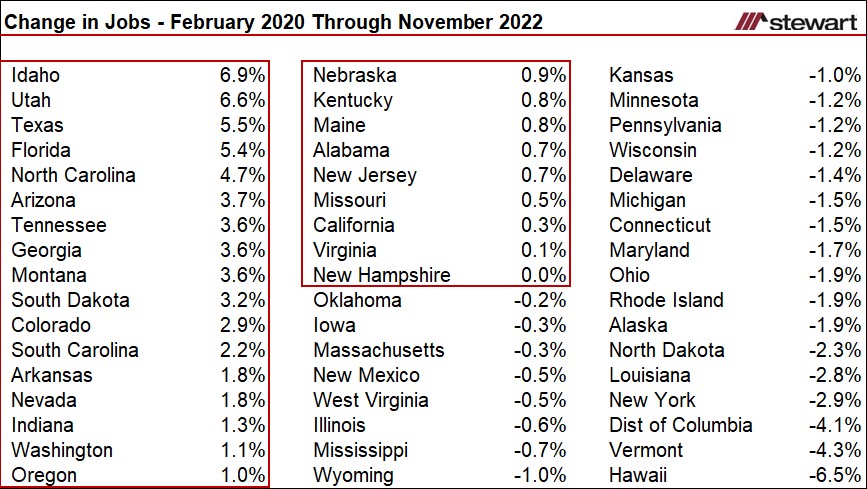 Not all states were equally slammed employment-wise by the pandemic as shown in the next table. From February to April or May in 2020, Michigan lost almost one-in-every-four jobs (-23.7 percent) while Utah shed the fewest at just one-in-every 12 (-8.9 percent).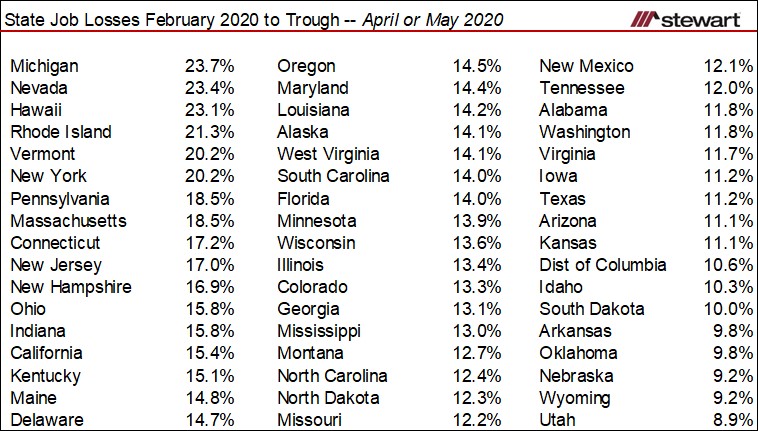 In October Hawaii lead the U.S. in 1-month job growth at 0.8 percent but that fell by more-than one-half in November to 0.3 percent. West Virginia posted the best 12-month job growth of 1.0 percent followed by Wyoming's 0.7 percent and New Hampshire and Alaska tied for third best at 0.6 percent. Four states posted a 0.2 percent decline in November: Arkansas, Delaware, Vermont and North Dakota.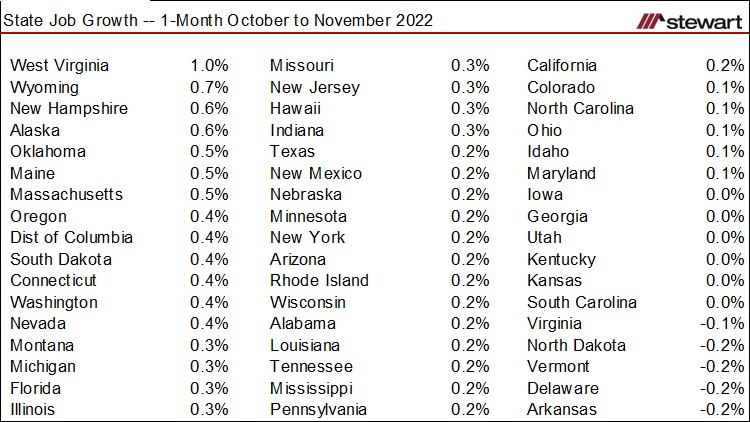 Job change rates for the 12-months ending November 2022 are detailed in the next table. Best 12-month performance included Texas up 5.1 percent and Florida gaining 4.7 percent. No state posted a job loss for the 12-month period, but Mississippi continues to have the smallest 12-month job gain at 0.1 percent.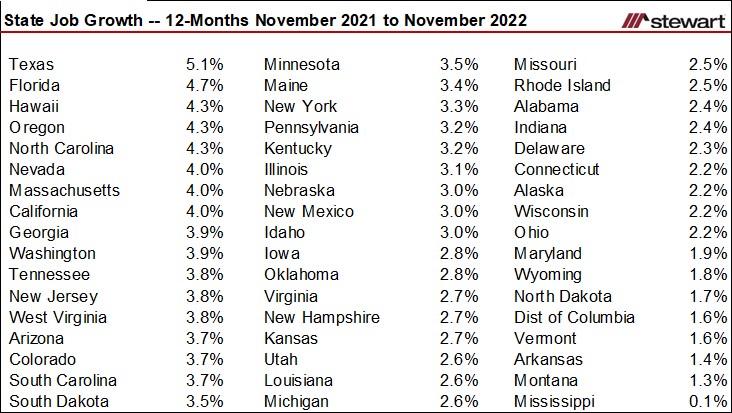 Total employment as of November 2022 is shown in the next table sorted by state from the most to the fewest number of jobs. Also included is the cumulative percentage of jobs by state. Nine states account for more than one-half (50.6 percent) of all U.S. jobs while 21 states with the fewest number of jobs combined do not total even 10 percent.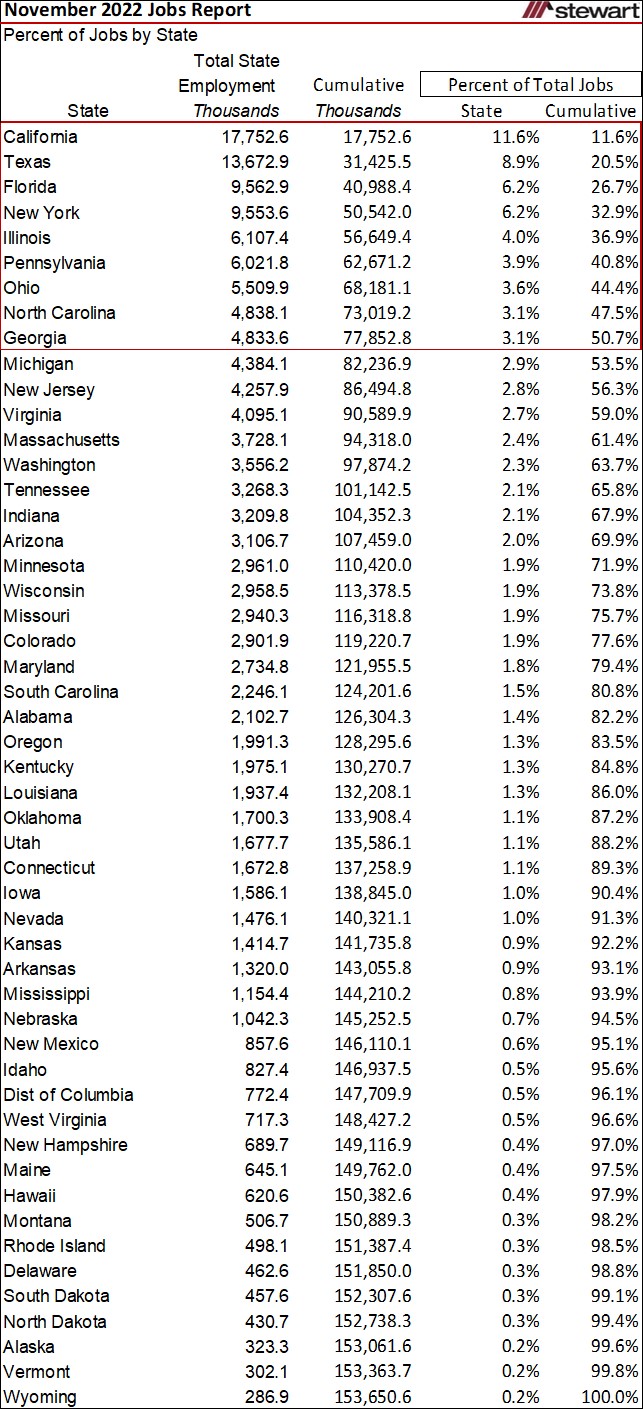 Employment metrics for all 50-states and the District of Columbia are detailed in the last table.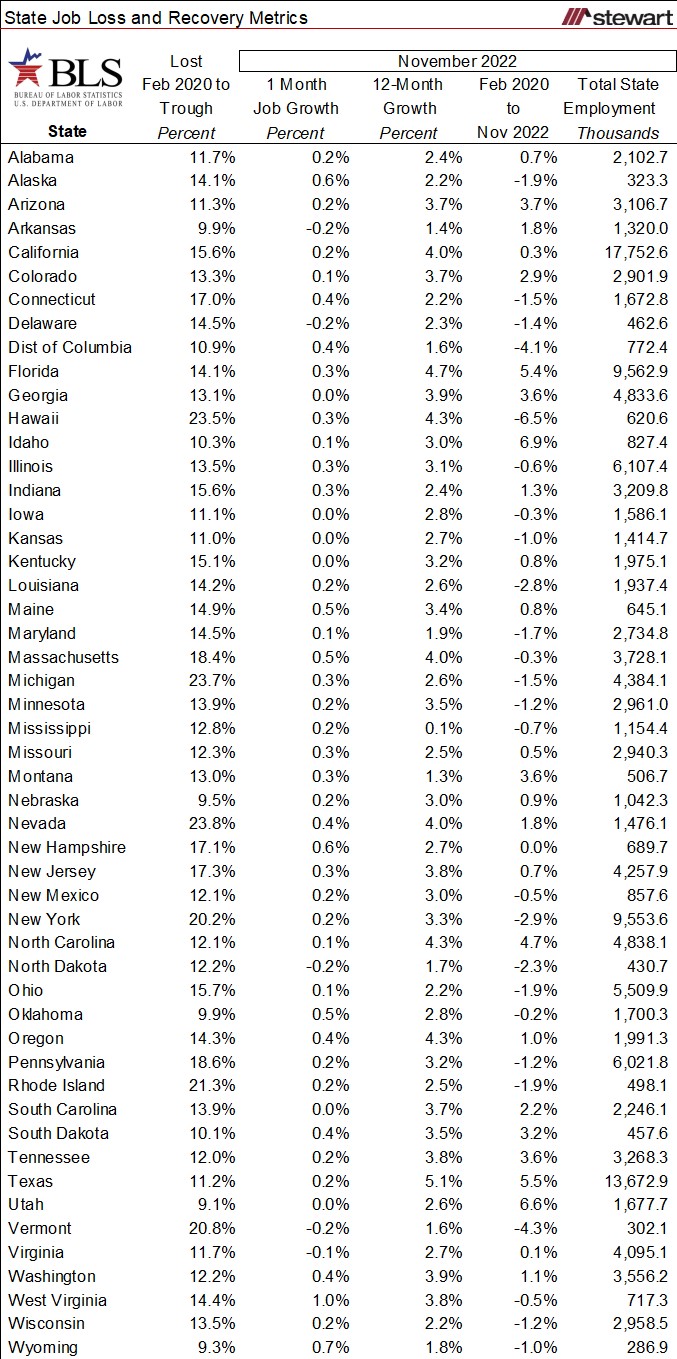 The BLS provides a plethora of job- and workforce-related data monthly ranging from county to national levels. These data can be accessed at www.bls.gov, then click the DATA TOOLS tab.
There still remains a considerable portion of the $5 trillion of federal pandemic stimulus yet to be spent. With tens of thousands of tech and ecommerce job cuts announced recently and just coming off the highest inflation in 40 years concerns are the U.S. is headed to a recession including the following expectations:
Fannie Mae – modest recession will commence in Q1 2023
The Conference Board – economic weakness to see a recession to begin around the end of 2022
Bloomberg – probability of a recession is now 100 percent within a year
JPMorgan – mild recession in 2023
Forbes – recession will begin late 2022 or early 2023
Former Boston Fed President Eric Rosengren – U.S. likely headed to mild recession in 2023
FitchRatings – recession to start in Q2 2023
University of Michigan Economists – mild recession ahead in 2023
The Economist – Why a Global Recession is inevitable in 2023
Bank of America – forecasts mild 2023 recession
S&P Market Intelligence – 2023 recession more likely than not
RBC – recession is not here but it is coming
If there is a recession, job losses may return in 2023 delaying recovery further for the 26 states yet to get back to pre-pandemic job numbers. Pay close attention to job numbers to gauge where the economy is heading.
Jobs are everything to the economy.
Period. It's all about jobs.
Ted