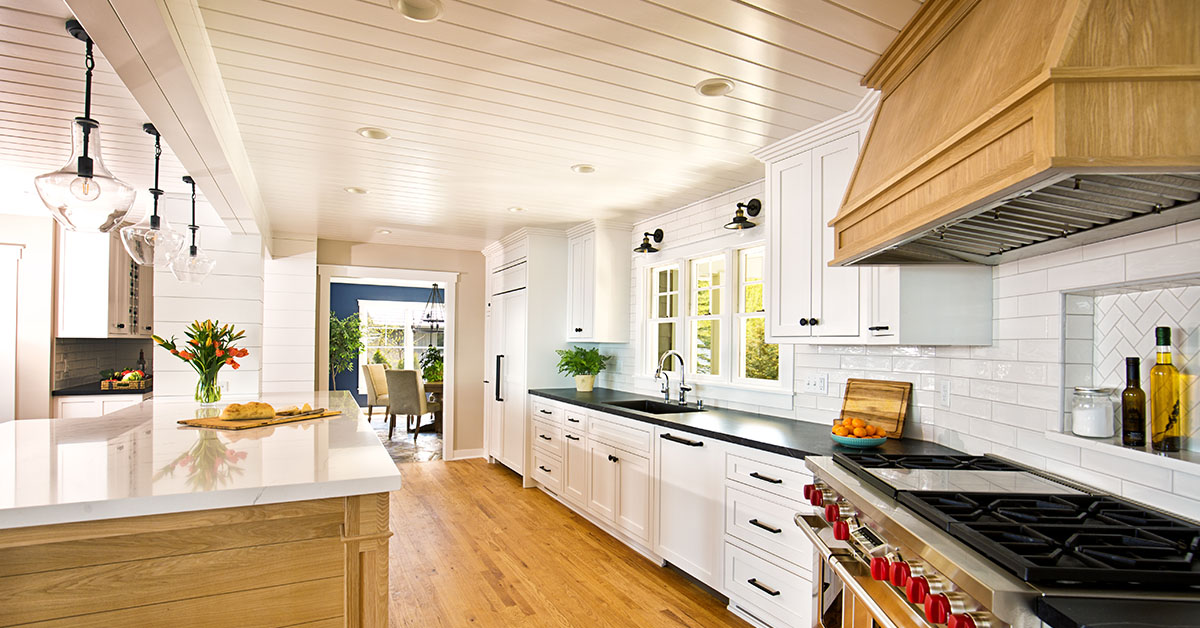 There are many ways to approach home renovations. If sustainability is a priority for your renovation process, there are a variety of things you can consider. From donating and using second-hand materials, to seeking new eco-materials, let's walk through your options.
Demo with Donation in Mind
Donating or recycling your home remodeling materials is just one of the ways you can be more sustainable while renovating. In fact, Habitat for Humanity finds that donating renovation materials helps to keep functional items out of landfills and allows you to help someone else who may need the materials you wish to discard.
Common household items that can be donated include:
Carpet, tile, and flooring
Cabinet knobs and door handles
Sinks and bathtubs
Light fixtures
Brick and lumber
Furniture
Appliances 
Visit the links below for guidance on donating building materials and to find a local donation center near you:
While some of these household items are accepted by many donation centers, it is good to note that they need to be clean, in good condition, and transport safely without cracks, broken glass or visible nails. Review the policy of the donating center you are taking your materials to confirm what is acceptable.
Purchasing Used Building Materials
Starting your search at a second-hand store can not only help you save an item from going to a landfill, but can also save you money. Here are some other benefits to consider while shopping for second-hand materials:
Allows you to add character to your home with vintage styles for items such as windows and doors.
Gives you the opportunity to contribute to a worthy cause. Habitat for Humanity uses the proceeds for your purchase to help individuals in need of housing.
Allows you to save on other materials that might be needed for renovating, such as screws, light fixtures, paint, and even power tools.
Selecting Sustainable Building Materials
For new sustainable building materials you can use, here are some materials that last just as long (or even longer) than their traditional counterparts.
Composite Roofing
If it's time to update your roof, consider replacing your roofing with asphalt shingles, composite shingles, concrete tiles, or even clay tiles. These types of materials are often durable, some able to last up to 100 years because they will not break in the heat or crack during the winter.
Metal roofs are another great alternative due to their durability and can be less expensive compared to other sustainable building material. Consider weather proofing your metal roof to prevent it from rusting.
Adding solar panels to your roof can also help your home become more energy efficient. For more information on how to incorporate solar panels to your home, visit our blog here.
Windows
Upgrading your windows will not only help with insulation, but they can help with the overall look of your home. Consider installing Low-E glass windows to help keep the heat in your home during the winter months and heat out during the summer.
Low-E glass windows can also feature a low or high Solar Heat Gain Coefficient (SHGC) to accommodate climates that are cool or warm. The coating on this type of window reflects solar energy to protect you from UV rays, while letting in visible light.
Doors
Much like your windows, it is important to make sure your doors are also helping your home stay insulated. While weather stripping helps to ensure that your doors are properly sealing, selecting the right sustainable door can also help your home be energy efficient.
Consider selecting a door made out of fiberglass or wood and filled with polyurethane.
Kitchen Cabinets
Here are a few ways you can approach revamping your kitchen:
Bamboo or formaldehyde-free material is a great way to enhance your kitchen.
Using salvaged or reclaimed wood will also allow you to enhance your space with color. Simply sand the wood if needed, stain it, and then apply an eco-friendly sealant. The same can be done to existing cabinets for those who want to work with existing structures. 
Lyptus wood, made from eucalyptus plants, is a renewable resource that can also be stained to reveal colors ranging from light pink to dark red.
Countertops
Upgrading your kitchen or even bathroom countertop for styling purposes can also be done in an eco-friendly manner. Common materials, such as quartz or granite, are long lasting. However, there are newer approaches that will make your home sustainable.
Bamboo countertops are very sturdy and hard, so they will last for a while and perform well under proper care.

IceStone countertops are made up of recycled glass and cement and contains nontoxic pigments.



PaperStone is made up of recycled paper and petroleum free resin. It is also matte, thick, and durable with steel-like strength.


Alkemi has a clear finish and showcases the metal materials that were used in the recycle process, such as aluminum, copper, and acrylic. It is also strong and durable.
 More Ways to Make Your Home Sustainable
Looking for more ways to make your home sustainable? Visit our blog to see how going green can help increase your home value.