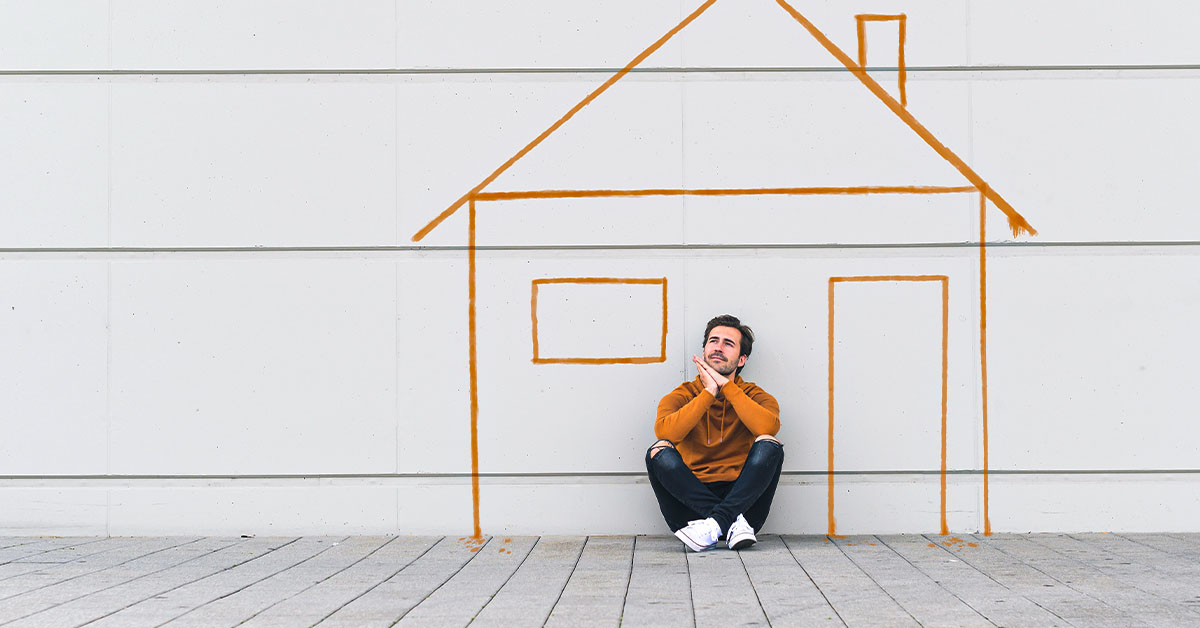 Existing Home Sales March 2022 – National Association of Realtors® (NAR)
Box Score
As of March 2022
Seasonally Adjusted Annualized Sales Numbers (SAAR)
5.77 million SAAR as of March 2022
down 2.7 percent sequentially from February 2022 which tallied 5.93 million
down 4.5% percent year-over-year from 6.04 million in March 2021
Monthly Sales – raw data not seasonally adjusted
456,000 for the month of March 2022
up 29.5 percent sequentially versus the 352,000 sales in February 2022
down 5.8 percent versus the 484,000 sales in March 2021
Sales Trailing 12-Months – raw data not seasonally adjusted
6.064 million for the 12-months ending March 2022 – raw data not seasonally adjusted
down 0.5 percent vs 12-months ending February 2022 of 6.092 million
up 4.7 percent vs 12-months ending March 2021 of 5.792 million
Sales Year-to-Date – raw data not seasonally adjusted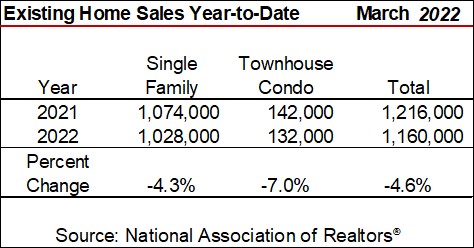 Median Price – March 2022 due to historic monthly seasonality of existing home prices, only a year-over-year comparison is made
$375,300 – not seasonally adjusted
up 15.0 percent vs $326,300 March 2021
Average Price – March 2022 due to historic monthly seasonality of existing home prices, only a year-over-year comparison is made
$387,100 – not seasonally adjusted
up 9.6 percent vs $353,100 recorded in March 2021
Single-Family Sales by Price and Median Days on the Market Prior to an Accepted Purchase Contract – sample data not seasonally adjusted
Primary reason sales priced $250,000 and less are down is minimal inventory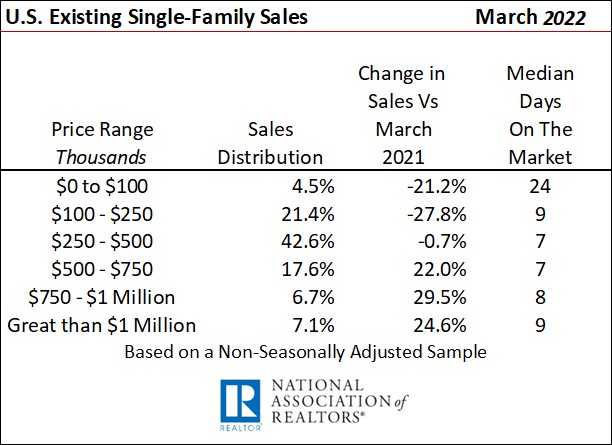 Months Inventory – with 6.0 months inventory considered normal from a historical perspective – Seasonally Adjusted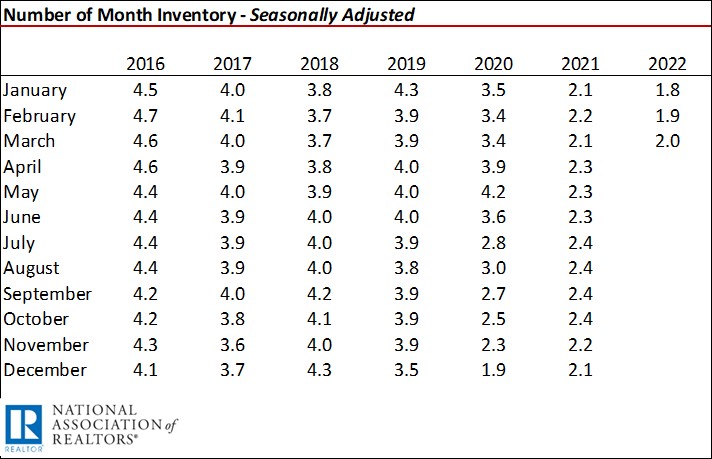 Graphs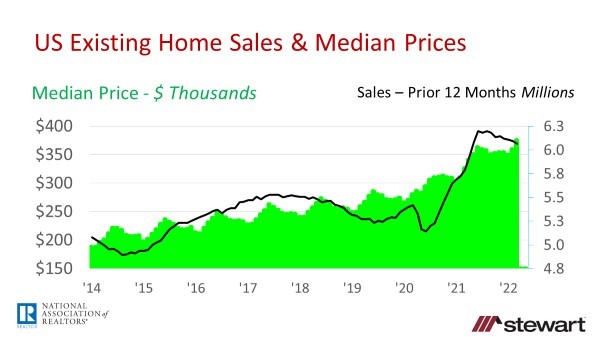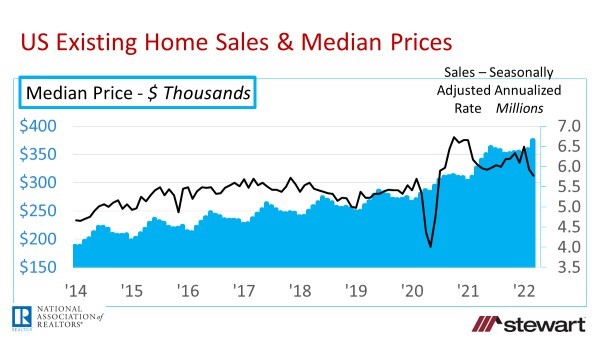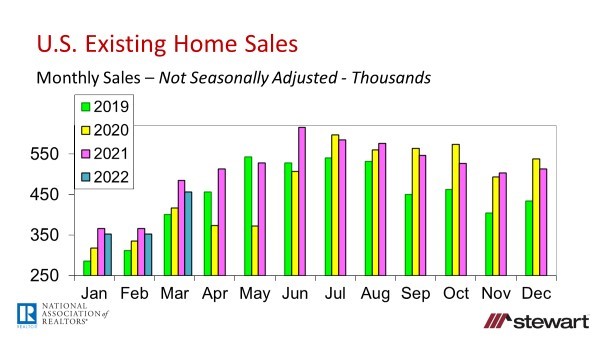 Other Details Included in the NAR March 2022 Release
Median price has risen 121 consecutive months on a year-over-year basis
Inventory rose 11.8 percent from February 2022 to March 2022 to 950,000 active listings and was down 9.5 percent compared to March 2021
Months Inventory at the end of March 2022 was 2.0 months (not seasonally adjusted), up slightly from the 1.9 months measured in the prior month
Typical property was on the market 17 days prior to an accepted purchase contract versus 18 days each in February 2022 and one-year ago
87 percent of homes closed in March 2022 were on the market less than one month before going under contract
1st time homebuyers accounted for 30 percent of March closings, down from 32 percent one-year ago. Continuing erosion of affordability will no doubt negatively impact 1st-time homebuyers ability to access the great American dream given rising prices and rising interest rates
Investors purchased one-in-five homes (19 percent) sold in March 2022, unchanged from 19 percent in the prior month  but up from 15 percent 1-year ago
Buyers paid all-cash 28 percent of the time, up from 23 percent one-year ago
Distressed sales – foreclosures and short sales – are still not an issue making up less than 1 percent of March 2022 transactions - unchanged from the prior month & year-over-year. Most homeowners unable to make their mortgage payments today merely need to list the property with a real estate agent and prepare to walk with equity from a closing sometime in the next 30 to 60 days in this tight housing market.
Read the full press release from NAR here.
Headwinds in 2022 include quickly rising interest rates, affordability issues and uncertainty of the economy given the ever-evolving pandemic and now global conflicts.   A major anticipated change is cooling of the rocketing trajectory of median prices (up 15.0 percent in the 12-months ending March 2022).
Housing sales are shrinking due escalating interest rates and a waning impact from COVID 19.
In the early 2000s I concluded that the start of a weakening housing market featured both a reduction in total home sales in the prior 12-months but with significant increases in median price.   That perfectly describes the situation today.   I believe at year-end we look back to 2021 as the peak of the U.S. housing market in this economic cycle.
Follow me on Twitter at twitter.com/DrTCJ
Given the changes in how buyers search for homes and the technology utilized, it is time to revisit what defines normal inventory. With the typical home receiving an accepted offer in 17 days in March 2022, the time from listing-to-contract continues to compress. 
Ted