Are you getting ready to sell your home?
Making your house look the part is essential to setting a strong first impression with potential buyers. However, where should you start and how do you stage a house for sale while living in it?
According to a 2021 report from the National Association of Realtors (NAR), 23% of buyers' agents said that staging a home increases the offer price by between 1% and 5%. Considering the median cost of staging by the seller's agent was $300 that year, this could mean a worthwhile investment compared to the ultimate value of your home. However, there are plenty of things you can do for free or for cheap. From tidying up, to taking stock of what you already have, here are some tips to consider.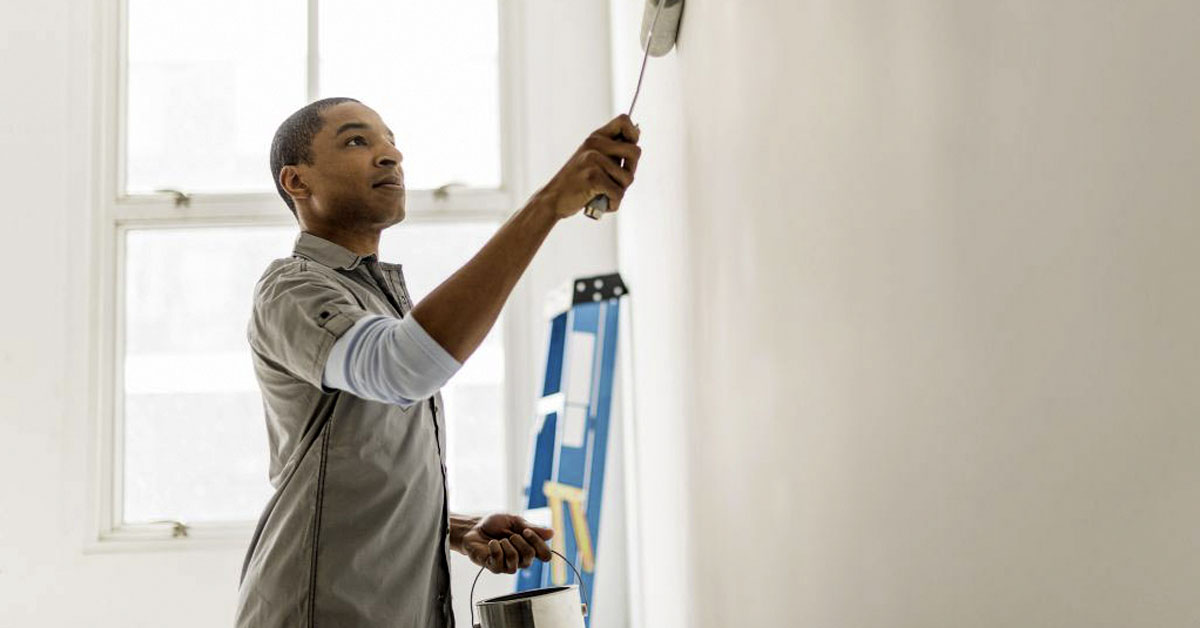 Give your walls a fresh coat of paint in a neutral color.
What are some easy things you can do?
Decluttering is the first and easiest part of the process. This also gives you the opportunity to trim down your belongings before packing up. Get into the Marie Kondo mindset – if you have excess furniture that no longer brings joy, donate or sell it. Then, contain your messes. Especially if you have a messy office or child's playroom. Naturally, if you are still living in your space, toys will find their way around the home. However, make sure everything gets tucked away when your showing begins.
Another way to help potential buyers see the home as their future home is to remove personal items, such as family photos, etc. off the walls and tables. You want the future buyer to picture themselves in your home, not your family. It also helps keep your family safer.
Don't forget to clear your kitchen of countertop appliances like toasters, blenders, spice racks, etc. Keep your kitchen counters clean and clutter free as much as possible. Keeping the coffee maker out is ok if you use it every day! It may even be useful for an early morning showing!
What is the best way to stage a house for sale?
The same NAR report stated that the most common rooms to get staged are the living room (90%), kitchen (80%), main bedroom (78%) and dining room (69%.) However, staging your home doesn't mean renting new furniture. Take inventory of what you have. First, use what is on hand that is in good shape and in a neutral style, and then review what feels dated or worn. If you have anything that doesn't look the part, consider moving it to your garage or storage. From there, walk through your home and consider furniture placement. Having your rooms furnished with purpose allows buyers to imagine living in the space. 
Just as you should remove personal items, toning down your décor preferences is a great move. Choose neutral colors for couches, rugs and bedding. A pop of color is fine but keeping colors bright and clean is always best.
Make your spaces seem larger by avoiding an overcrowded room - consider moving furniture out, take that leaf out of your 10' dining table, use smaller area rugs (if you have them) to make your spaces look bigger.
Add touches of greenery to make your space look refreshed and alive (Amazon has some great greenery finds). Consider your outdoor patio or terrace for example. Having plants and a patio set laid out is much more interesting than leaving the space empty.
Tackle quick repairs and refreshes.
Don't forget the basics of your home structure. Has the paint seen better years? Do the faucets look rusty? Now is a good time to give your home a quick facelift. After all, a layer or two of paint can do wonders. The same can be said for bold paint colors or wallpaper. While you may love your floral wallpaper, the average home buyer likely will not. Try a neutral and soothing paint color.
Want to learn more about getting ready to sell? From decoration tips like these, to closing specifics, we've got you covered:
*Originally published 3/1/2021, updated 7/25/2022.