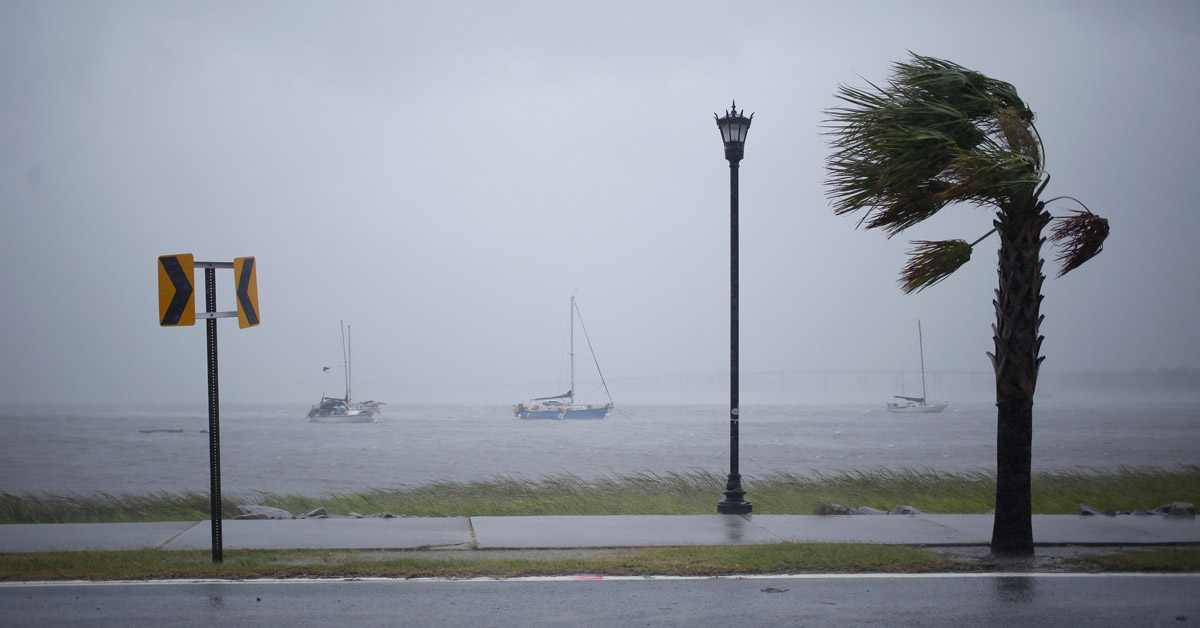 Hurricane season begins June 1 and for 55 million people living along the Atlantic and Gulf Coasts, it means stocking up and staying prepared. Surging rains, high-impact winds and devastating floods can wreak havoc on our lives and everyday business. While these elements are a matter of chance during hurricane season, it's important to be prepared in case of an unfortunate weather event. Our team has prepared a list to guide you:
Stock up on non-perishable food and water.
Staying fed and hydrated is important. Many communities lose power or access to safe drinking water. Make sure to store a three-day supply of one gallon of water per person, per day, and non-perishable food items like canned meat, fruits, vegetables and other things that don't require refrigeration. 
Have a first aid kit and medication handy.

Strong winds may cause damages that expose you to broken glass and other sharp objects and it may be difficult to find an open drug store or access medical attention during a natural disaster. Check your first aid kit for bandages, ointments, antiseptic wipes and sterile gauze pads as well as eyeglasses, insulin, prescription and non-prescription drugs.
Power up with tools and supplies.

Not all hurricanes and tropical storms bring disaster to every community, but they can be a nuisance. Make sure to have battery operated flashlights, candles, matches and radios ready in case of a power outage. Don't forget your can opener and to stock up on paper plates and utensils.
Store sanitation supplies and toiletries.

Toilet paper seems to be the first thing to go during an emergency. Don't wait until the weather alert, stock up on toilet paper, towelettes, soap, feminine and personal hygiene items. This includes cleaning supplies like plastic garbage bags, disinfectants and household bleach.
Have clean clothing and bedding for every family member.
Ensure each person has at least one complete change of clothes, shoes and undergarments as well as clean sheets and blankets to stay warm. An extra tip: put your clothes into a resealable gallon bag to keep them dry and compact.
Keep your baby safe.
While youngest member of the family may not necessarily know what's happening, it's important to keep them safe and comfortable. Make sure to have baby formula, diapers, bottles, powdered milk, medications, blankets, and a fresh change of clothes.
Keep your furry friends in mind.
Weather emergencies can be stressful on family pets, too. Make sure you have a leash, current ID tag and photo, carrier, food, bowl, medications and a list of emergency numbers (vet, animal shelters, animal control). 
Waterproof important documents and possessions.
Be sure to have your driver's license, social security cards, passport, health insurance cards, immunization records, birth/marriage/death certificates and insurance policies on hand that may be necessary to reference in the aftermath of a storm.
Finally, prepare unplugged entertainment.
Waiting out a storm can take a few days. Have board games, books, crossword puzzles and children's toys handy. Staying occupied can help relieve stress during a uncertain time.
For information about our personal insurance plans, including flood and wind insurance, visit stewartinsurance.com.