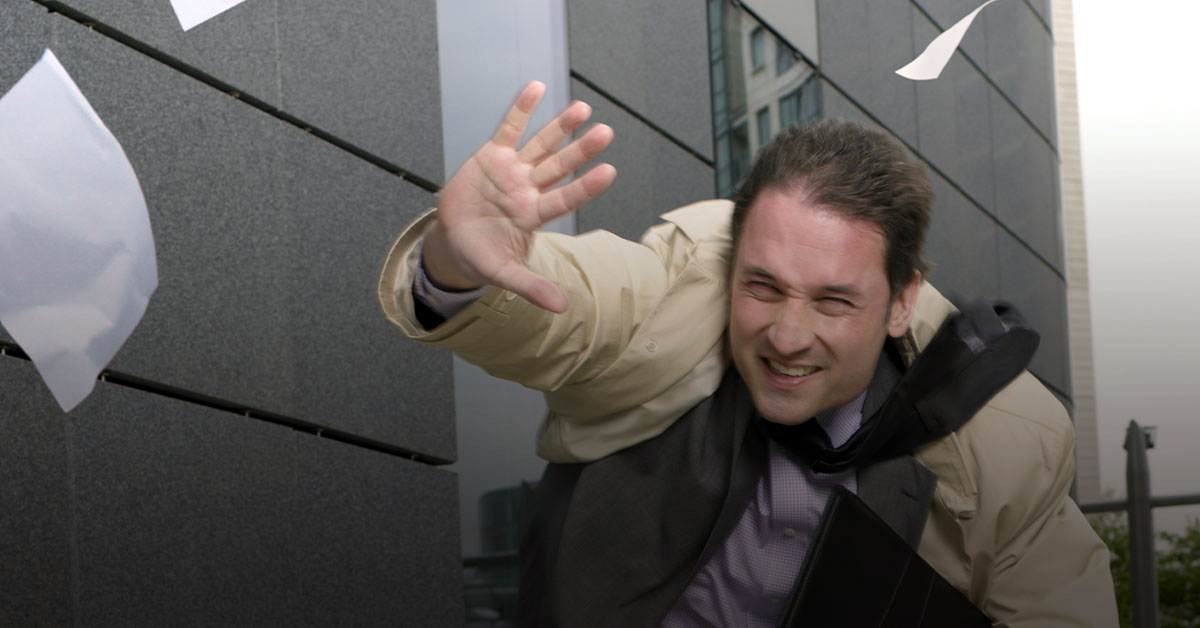 Housing and Residential Lending Outlook January 2023
No matter how hard you wish the Fed will wake up tomorrow and lower interest rates, that is likely not going to happen. Housing sales and residential lending volumes face strong headwinds according to the latest monthly forecasts as of January 2023 from Fannie Mae and the MBA.
Interest rates are one of several drivers impacting housing affordability and ultimate demand. While 30-year residential mortgage rates are slightly more than one-third the levels seen in the early 1980s, they are double that of the 2.65 percent posted in January 2021. The first graph shows fixed-rate, 30-year conventional mortgage rates weekly since 2018 as reported by Freddie Mac in their Primary Mortgage Market Survey which has been ongoing since April 1971. The latest rate was 6.15 percent as reported on January 19, 2023 and was down from 6.33 percent the week prior.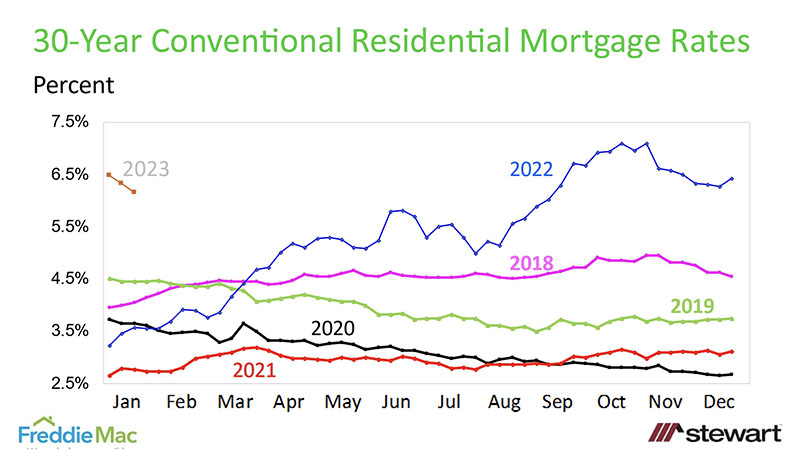 Interest Rate Expectations
Residential interest rate expectations remain divergent between Fannie Mae and the MBA's expectations as shown in the tables below. The first table shows annual rates and the next two quarterly. While the MBA sees annual rates barely rising from 2022 to 2023 (going from 5.4 percent to 5.6 percent), Fannie Mae is projecting a 100 basis point gain going from 5.3 percent in 2022 to 6.3 percent.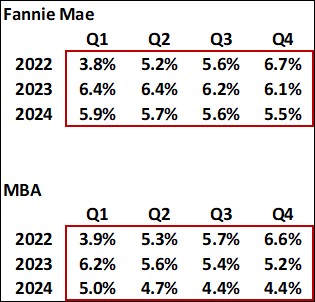 Existing Home Sales & Median Prices
Fannie Mae and MBA forecast declining existing home sales in 2023. Fannie Mae, however, sees sales plunging to the lowest level seen since 1995, down 22.4 percent year-over-year to 3.95 million units. The MBA expects 4.43 million existing home sales which would be down 12.8 percent from 2022.
Both are now expecting median home price declines in 2023, with Fannie Mae at a 4.2 percent reduction and the MBA down 3.3 percent . My personal forecast calls for median prices to dip from 10 percent to 14 percent in 2023 Vs 2022 due to an eroding economy, high rates and affordability issues.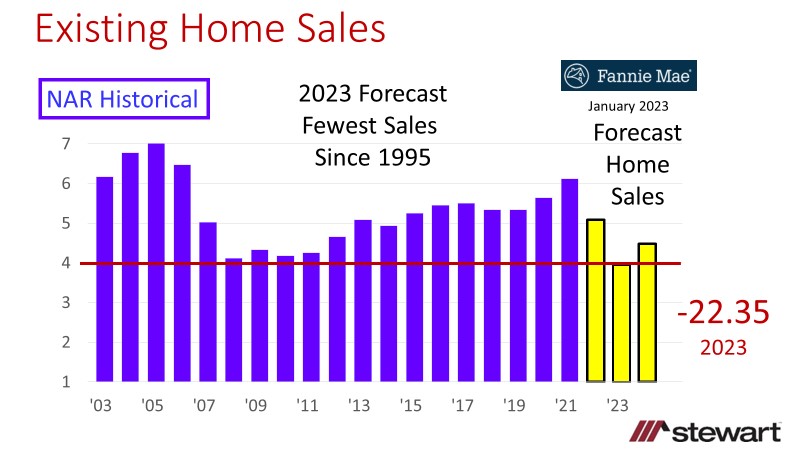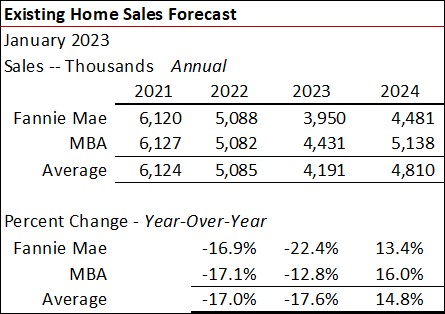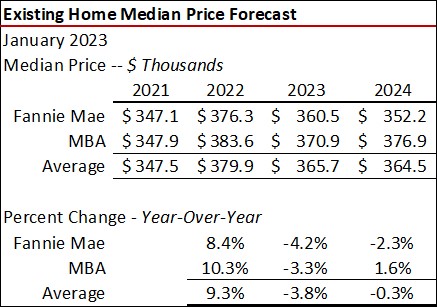 New Home Sales
Given the expectation of much higher interest rates, Fannie Mae forecasts new home sales to drop 12.7 percent in 2023 compared to MBA's 4.2 percent dip. Both see gains in new home sales in 2024 ranging from +7.9 percent (Fannie Mae) to 18.8 percent (MBA). Since 2002, there has been an average one new home sale for every 8.9 existing home closings. There were an estimated 470,000 new unsold homes under construction in December 2022, the most seen since March 2008 when the housing bubble imploded.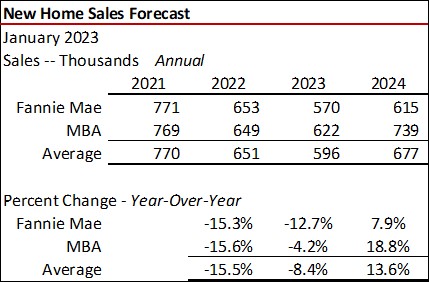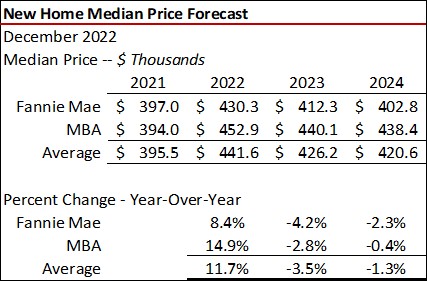 Residential Lending
Rising interest rates crushed refinance activity in 2022 compared to 2021, down a preliminary 74 percent, with another 32.7 percent to 47.9 percent drop expected in 2023. More than one-half of all residential mortgage lenders in business in 2021 are now out of a job in the mortgage industry with more cuts still percolating through the system. Purchase lending is expecrted to be down 16.1 percent in 2023 (average of Fannie Mae and the MBA), but up 12.8 percent in 2024 driven by lower interest rates.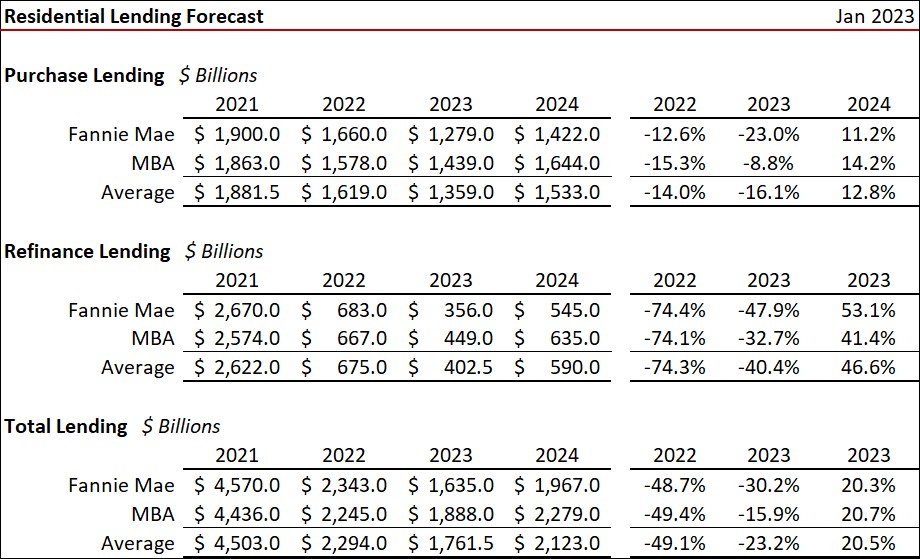 Neither Fannie Mae nor the MBA expect a change in lending trajectory at least through the third quarter of 2023. As shown below, the MBA and Fannie Mae each anticipate year-over-year quarterly total lending declines in Q1, Q2 and Q3 2023 before turning the corner.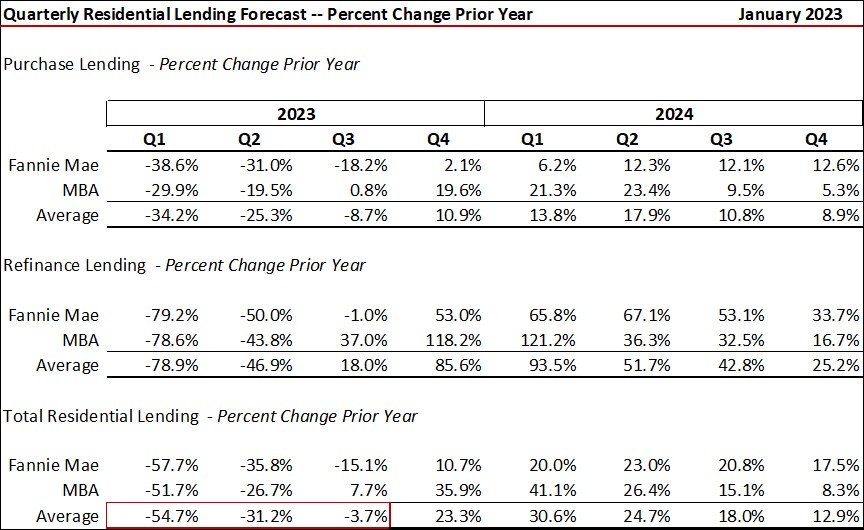 The outlook could turn on a dime depending on interest rates, whether a material recession takes place, consumer confidence and inflation. The U.S. Congress Joint Economic Committee estimates that inflation is costing the typical household in the country $747 more per month to maintain their lifestyle compared to one year ago. At current mortgage rates, the typical household lost approximately $120,000 of loan capacity to purchase a home assuming no change in income.
As of today, it looks like the first three quarters of 2023 will continue to challenge the residential housing and lending sectors -- at least through the first three quarters of 2023. While the Fed is signaling a comparatively small 0.25 percent increase in the Fed Funds rate at the upcoming Fed meeting, they also reiterated their intent to maintain higher rates through year-end.
Ted