Doug Goss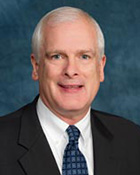 Regional Underwriting Counsel–Mid‑Atlantic States
Senior Underwriter
State Counsel—Pennsylvania
Stewart Title Guaranty Company
Office: (610) 687-0400
900 W. Valley Road,
Suite 400
Wayne, PA 19087
Douglas has spent 10 years in the title industry and, prior to that, 33 years in private practice or as in-house counsel for real estate development and other industries. In 2007, he joined Stewart Title Guaranty Company, where his specialization involved all areas of Pennsylvania real estate transactions and title insurance, including residential and commercial transactions. Douglas is recognized for his extensive experience in construction loan transactions, land development and zoning, and mechanic's liens.
Douglas is affiliated with the Pennsylvania Bar Association and the Pennsylvania Land Title Association, and is a member of the Pennsylvania Bar Association.
He received his B.B.A. from the University of Iowa and his J.D. from the University of Pittsburgh School of Law.