Douglas Smith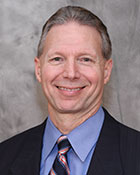 Vice President
Senior Underwriter
State Counsel—Michigan
Stewart Title Guaranty Company
Office: (248) 368-9900
Fax: (248) 368-9951
17177 N. Laurel Park Drive,
Suite 107
Livonia, MI 48152
Doug serves as vice president, associate senior underwriter for Stewart Title Guaranty Company. A 32-year title industry veteran, he spent over 25 years as underwriting counsel and claims counsel with several national title companies before joining Stewart Title Guaranty Company in 2009. Doug regularly lends his expertise to industry presentations on mortgage fraud and foreclosures, tax titles, construction liens and policy forms.
Doug is admitted to the American Bar Association® and the State Bar of Michigan. He is a past president of the Michigan Land Title Association (MLTA) and a current member of the organization's legislative steering committee. In addition, Doug received the MLTA Mary Fiendt Lifetime Achievement Award in 2006. He graduated from the College of Wooster and Detroit College of Law.
SPOTLIGHTS

Stewart Spotlights is our exclusive publication featuring trophy commercial deals closed or underwritten by Stewart Title Guaranty Company, Stewart Title Insurance Company or Stewart Title Limited, across the United States and around the world.