Glen W. Roberts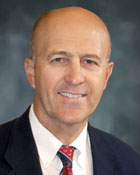 Senior Vice President
Regional Underwriting Counsel—Western States
Senior Underwriter
Stewart Title Guaranty Company
Office: (801) 822-4303
Glen joined Stewart Title Guaranty Company as an underwriter in 2010 and has served as associate senior underwriting counsel since 2012. He previously managed and shared ownership in a title agency in Utah for 17 years. Prior to entering the title industry, he practiced law for 10 years, working principally in the real estate arena.
Glen is a current member of the Utah State Bar, a former president of the Utah Land Title Association and a former member of the Utah State Title Commission. He is a frequent speaker at land title association conventions. Glen received his B.S. from Brigham Young University and his J.D. from California Western School of Law.
SPOTLIGHTS
Stewart Spotlights is our exclusive publication featuring trophy commercial deals closed or underwritten by Stewart Title Guaranty Company, Stewart Title Insurance Company or Stewart Title Limited, across the United States and around the world.