John Frates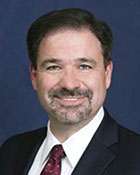 Senior Vice President
Northeast States District Manager
Regional Underwriting Counsel–Northeastern States
Senior Underwriter
Stewart Title Guaranty Company
President
General Counsel
Stewart Title Insurance Company
Office: (212) 922-0050
Mobile: (914) 993-4423
60 East 42nd Street,
Suite 1260
New York , NY 10165
From 1990 to 1998, John served as both commercial and regional claims and underwriting counsel for two major title companies. In 1998 he joined Stewart Title Guaranty Company as senior counsel, served as vice president and branch manager, in the company's White Plains, New York, office. Following those positions, John was named senior vice president and New York state counsel, and then executive vice president and general counsel. In his current position, he is responsible for all New York state underwriting and insurance practices, as well as regional underwriting.
John is a member of the New York State Land Title Association executive committee and current president of the Title Insurance Rate Service Association, Inc. He is a member of the New York State, New York City and Connecticut Bar Associations.
John earned his B.A. from Franklin and Marshall College and his J.D. from the University of Dayton School of Law.