Kelli Ryan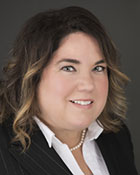 Associate Senior Underwriter
State Counsel—Pennsylvania
Stewart Title Guaranty Company
Office: (610) 687-0400
900 West Valley Road,
Suite 400
Wayne, PA 19087
Kelli has been with Stewart Title Guaranty Company since 2005. She previously served as associate counsel for a national mortgage company and as a commercial real estate closer for a national bank.
Kelli received a Bachelor of Arts degree in international relations from The American University, School of International Service, and a law degree from Widener University School of Law. She also studied international law at Webster University International Law Program in Geneva, Switzerland. Upon graduation, she served as judicial clerk for the Honorable Raymond A. Batten, Superior Court of New Jersey.
Kelli is admitted to practice before the Supreme Court of New Jersey, the Supreme Court of Pennsylvania and the United States District Court for the Eastern District of Pennsylvania. She is a member of the Pennsylvania Land Title Association (PLTA), the PLTA Legislative and Judicial committee, the Pennsylvania Bar Association and the American Bar Association.