MALCOLM A. MEYER, SR.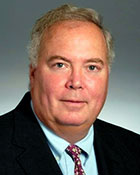 Underwriter
State Counsel—Louisiana
Stewart Title Guaranty Company
Office: (504) 837-8113
Mobile: (504) 259-5364
113 Rosa Avenue
Metairie, LA 70002
A transactions attorney with over 30 years of experience, Malcolm serves as State Counsel—Louisiana. He previously taught courses on legal ethics and Louisiana real estate transactions at Tulane Law School, and authored the book, "Meyer's Manual on Louisiana Real Estate."
Malcolm received his B.A., magna cum laude, from Tulane University and his J.D. from Tulane Law School, and spent four years in the United States Navy as an ensign, lieutenant junior grade and lieutenant, Judge Advocate General's Corps. He is a member of the New Orleans Bar Association, the Jefferson Bar Association, the Louisiana State Bar Association, the American Bar Association, and the American College of Mortgage Attorneys.
Malcolm is the former chair of the Louisiana State Bar Association— Uniform Title Standards Committee. He has been admitted to the Louisiana Bar, the U.S. Court of Military Appeals, the Federal District Court for the Eastern District of Louisiana, the Federal Fifth Circuit, the U.S. Supreme Court, and the U.S. Court of Claims and Tax Court. He was a recipient of the Daily Point of Light Award established by President Bush for his pro bono work in helping clear titles after Hurricane Katrina, and received the Louisiana Land Title "Person of the Year" award in 2012.