Rolf Lindberg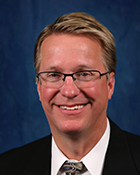 Senior Underwriting Counsel - Stewart Title Guaranty Company
Office: (952) 948-3203
1700 West 82nd Street,
Suite 100
Bloomington, MN 55431
Rolf has long had interest in real estate law. After a career in private practice, he joined Stewart Title Guaranty Company in 2000. During his time here, Rolf has served as underwriting counsel in the Dakotas, Minnesota, and Wisconsin; also as claims counsel. Today, he is a senior underwriting counsel with continuing responsibility for those states and remains the named state counsel for Minnesota.
Rolf is a member of the Minnesota State Bar Association and the State Bar of Wisconsin. He is certified as a real property specialist by the Minnesota State Bar Association.
Rolf holds a bachelor's degree in civil engineering from the University of Minnesota and a J.D., cum laude, from the William Mitchell College of Law.