Ilene Eckert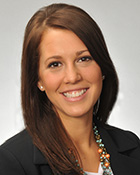 Vice President – Commercial Services Business Development Officer
Office: (713) 479-2116
Toll-Free: (800) 729-1900
1360 Post Oak Blvd., Suite 100
Houston, TX 77056
Ilene Eckert joined Stewart Title's Commercial Division as a business development officer. With strong management experience and a proven ability to drive revenue and increase profit growth, Ilene's commitment to customer service makes her a perfect fit to build strong relationships at every opportunity.
Ilene previously served as a marketing and event manager for the Houston West Chamber of Commerce, where she coordinated member programs, services and events, directed fundraising efforts and assisted with organizational planning. Before that, Ilene worked as a sales and special events coordinator for Studio Movie Grill's Corporate Office.
Ilene holds a Bachelor of Arts with a concentration in marketing from the University of Texas at Arlington's School of Business Marketing. She currently serves on the Board of Directors of the Making it Better Non-Profit Organization.