Hal J. Tippetts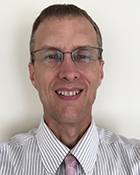 Sales Manager
Office: (207) 289-2800
Fax: (888) 878-6950
Mobile: (207) 256-7387
101 Corporate Drive,
Ste. 1
Portsmouth, NH 03801
Hal has held many positions in his more than twenty years in the title insurance industry including Account Executive, Sales and Marketing Manager, Compliance Officer, Escrow Officer, Operations Manager and Partner. His diverse industry background helps him effectively partner with clients and co-workers to insure delivery of unparalleled service. Hal joined Stewart Title Company because he wanted to be a part of the great company culture and believes whole heartedly in the Stewart Brand, to be the most trusted partner in real estate services.
Hal has served on the Board of Directors of the Maine Association of Mortgage Professionals since 2009 and currently serves as the President. He is also an affiliate member of the Greater Portland Board of Realtors, currently serving on the Legislative Committee, and is an affiliate member of the York County Council of Realtors.
Off work Hal enjoys spending time with his beautiful wife and four daughters and occasionally makes it to his favorite stream to do a little fly fishing. He also loves hiking, skiing and almost anything out of doors.