Kirk Smith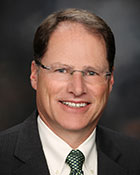 Division President
Office: (801) 479-7911
Fax: (801) 479-9681
Stewart Title
5734 South 1475 East, Suite 100
Ogden, UT 84403
Kirk serves as division president of Stewart Title Insurance Agency of Utah, Inc. In that position, Kirk focuses on the growth and financial performance of the company while maintaining Stewart's culture of integrity and unrivaled customer service.
Kirk began his career in the title business in 1984, with Bonneville Title. He has held myriad positions, including runner, recorder, searcher, examiner, chief title officer, escrow officer and escrow operations manager. He took his current position in 2012.
Kirk has been involved with the Utah Land Title Association since 1988, serving as its education chairman and regional vice president; in 2004 and 2005 he served as association president. He is currently serving a four-year term as a commissioner of the Utah Insurance Department's Title & Escrow Commission.
A graduate of Weber State University, where he earned a B.S. in technical sales, he is still actively involved with his alma mater and is a proud member and past-president of the university's "Wildcat Club."
Kirk enjoys spending his spare time with his family, playing golf and mountain biking.