Real Estate Info Center
Our full service Title Information Center offers extensive title research and geographic information. We offer a complete array of products and services designed to meet your needs. With Stewart, you'll benefit from advanced innovations of the industry's technology leader and an experienced staff that goes the extra mile to assist our customers.

Available services include:
Property Profiles
Square Foot Packages
Deeds of Trust
Tax Roll Information
Property Restrictions
Real Estate Tax Services
Abstract Certificates
Title Information
Foreclosure Reports
Owners of Record
Plat Maps
Lender Information
Property Profile Reports
Document Retrieval
Assignment of Lien Releases
Escrow and Settlement Services
Art Chapa, Customer Service Representative, Real Estate Info Center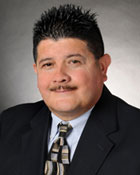 Sr. Customer Service Representative
Office: (210) 341-8861
A native of San Antonio and a Stewart associate since 1985, Customer Service Representative Art Chapa began his career in the Title Industry in 1984. Every day Art assists the San Antonio real estate community with all aspects of title research. With Art's wide-ranging background and the advanced technology innovations that Stewart has to offer, Stewart can quickly assist you with any of your title research needs.