Jeanne Jordan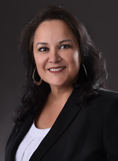 Escrow Officer
Office: (209) 632-2341
Jeanne Jordan brings a wealth of industry knowledge to the Modesto
team of Stewart Title of California, Inc. She has over 30 years' experience
handling all aspects of residential and commercial escrow transactions
and is widely respected for her results-oriented nature.
Jeanne is a trusted resource to customers of all types. Her expertise
in escrow and impressive customer service earned her the distinction
of Certified Senior Escrow Officer from The San Joaquin Valley Escrow
Association. She later served as their education chairman for two
consecutive years. Working with corporate attorneys, Jeanne played
an instrumental role in establishing company policies and procedures
for escrow personnel. She also successfully opened and managed two
escrow branches before rising to the position of county manager.
With an ability to simplify even the most complicated transactions,
Jeanne Jordan is the resource and the partner you need.