Charlie M. (Charlie) Craig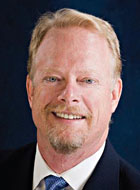 Senior Vice President
Associate General Counsel
Senior Underwriter
Stewart Title Guaranty Company
Office: (512) 236-0405
805 Las Cimas Parkway,
Suite 330
Austin, TX 78746
Charlie joined Stewart in 1999 after his private practice of law in Texas and California for 12 years. He brings over 25 years of extensive legal experience in domestic and international property law and regulation, including title guaranty, title insurance, and reinsurance underwriting risk analysis and issue resolution, land registry and title plant analysis, property development, mortgage securitization, legal and insurance regulatory assessment and compliance, contract negotiation, trademark compliance, and company formation and dissolution. Under his legal guidance, Stewart expanded our title guaranty, insurance, reinsurance, and project consultation capabilities to over 80 countries. Charlie currently provides underwriting advice for Stewart's Southwest Region (focusing on Texas and Louisiana) and for international transactions and provides in-house legal representation to Stewart and its corporate affiliates and agency services divisions nationwide.
Charlie has been a featured speaker at a number of real estate industry events, including the National Association of Realtors, Fannie Mae, and numerous Stewart educational seminars and webinars.
Charlie received his B.A. with high honors in economics and his J.D. from The University of Texas at Austin. Licensed to practice law in Texas and California, Charlie's professional affiliations include the American Bar Association (ABA), the Association of Corporate Counsel (ACC), the Real Estate, Probate & Trust Law and Insurance Law Sections of the State Bar of Texas, the Real Property Law Section of the State Bar of California, the Texas Land Title Association (TLTA), the Louisiana Association of Independent Land Title Agents (LAILTA), and the Austin Bar Association.