Current existing home sales numbers hover in the best range in 14 years, but weakened slightly in agosto 2021. The current pace is akin to a fluttering leaf oscillating from left to right and right to left but in a gentle downward track. There are no surprises here given escalating home prices, eroding affordability and limited inventory.

Existing Home Sales agosto 2021 – National Association of Realtors® (NAR)
As of agosto 2021
Seasonally Adjusted Annualized Sales Numbers (SAAR)

5.880 million SAAR as of agosto 2021
down 2.0 percent sequentially from julio 2021
down 1.5 percent year-over-year

Monthly Sales – raw data not seasonally adjusted

576,000 for the month of agosto 2021
down 1.4 percent versus the 584,000 sales in julio 2021
up 2.9 percent versus the 560,000 sales in agosto 2020

Sales Trailing 12-Months – raw data not seasonally adjusted

6.199 million for the 12-months ending agosto 2021 – raw data not seasonally adjusted
up 0.3 percent vs 12-months ending julio 2021 of 6.183 million
up 18.6 percent vs 12-months ending agosto 2020 of 5.227 million
Sales Year-to-Date – raw data not seasonally adjusted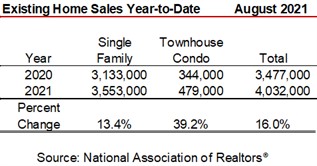 Median Price – agosto 2021

$356,700 – not seasonally adjusted
up 14.9 percent vs $310,400 recorded in agosto 2020

Average Price – agosto 2021

$376,000 – not seasonally adjusted
up 9.8 percent vs $342,300 recorded in agosto 2020
Single-Family Sales by Price and Median Days on the Market Prior to an Accepted Purchase Contract – sample data not seasonally adjusted. Primary reason that sales priced $250,000 and less are down because there is almost nothing left for sale due to minimal inventory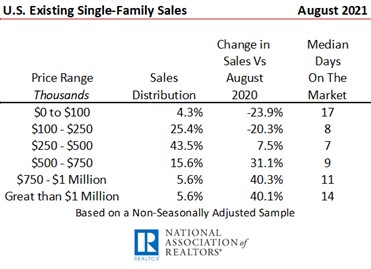 Months Inventory – with 6.0 months inventory considered normal on an historical perspective – Seasonally Adjusted
I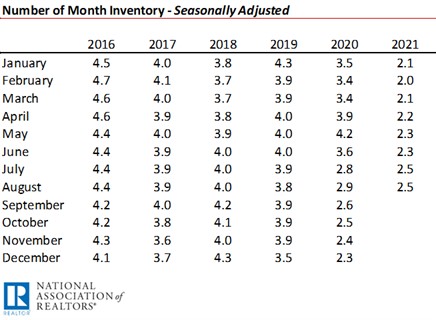 Graphs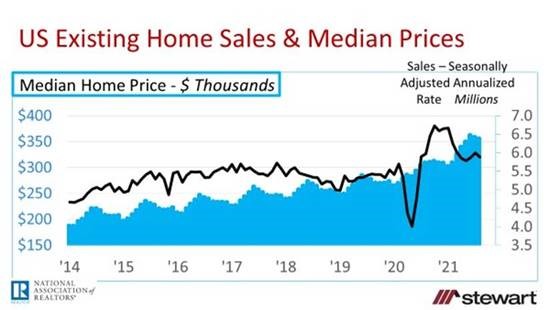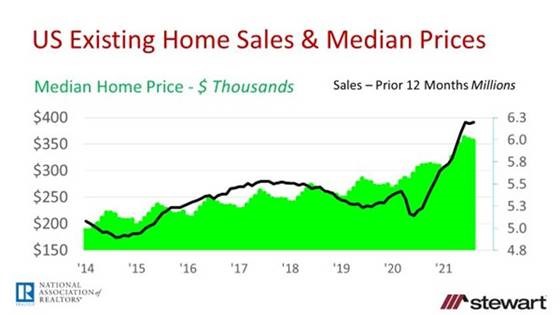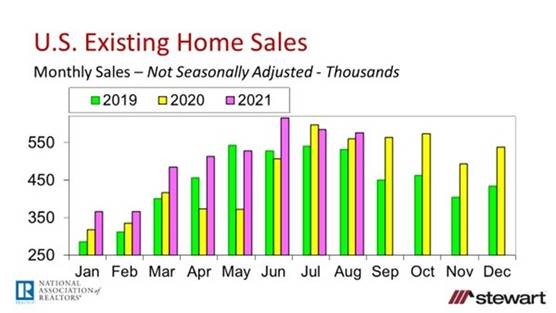 Other Details Included in the NAR Release
Median price has risen 114 consecutive months on a year-over-year basis
Inventory dipped 1.5 percent from julio 2021 to agosto 2021 to 1.29 million active listings, down 13.4 percent from the 1.49 million listings available in agosto 2020
Months Inventory at the end of agosto 2021 was 2.6 months (not seasonally adjusted), down from 3.0 months as of agosto 2020
Typical property was on the market 17 days prior to an accepted purchase contract, unchanged from the prior month but down from 22 days 1-year ago
87 percent of homes closed in agosto 2021 were on the market less than one month before going under contract
1st time homebuyers accounted for 29 percent of August closings, down from 33 percent one-year ago. No doubt, eroding affordability will continue to negatively impact 1st-time homebuyers ability to access the great American dream given rising prices and potential gains in interest rates
Investors purchased 15 percent of all existing home sales in agosto 2021 unchanged from julio 2021 but up slightly from 14 percent 1-year ago
Buyers paid all-cash (no mortgage loan involved) in one-in-five closings (22%) up from 18 percent one-year ago
Distressed sales – foreclosures and short sales -- made up less than 1 percent of agosto 2021 transactions unchanged from the prior month & year-over-year
To read the entire NAR press release and access the underlying data click https://www.nar.realtor/newsroom/existing-home-sales-recede-2-0-in-august
Housing continues to have among the greatest intrinsic value in our lifetimes as we have spent more time than ever at home. Where we have lived since the onset of the pandemic has and continues to impact our lifestyle and quality of life. Unfortunately, this pandemic is not yet over.
Ted