We give Colorado Springs residents more than just title insurance.
Welcome to the authoritative title insurance website in Colorado Springs. We're so glad you're here. At Stewart Title, we like talking about escrow, title insurance and the closing process. We enjoy helping you understand every step of your transaction. We enjoy creating long-lasting relationships with our customers as much as we enjoy taking in the beauty of the Garden of the Gods, and we look forward to doing so with you.
We're ready to work with you and make your closing experience a positive one. To us, you're not just a client file. You're a partner, and a friend for life. Take a look around, review our services and contact us today if you have questions.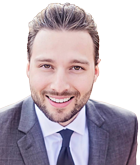 Stewart Business Builders Marketing
Stewart Title has enhanced your marketing capabilities with easy-to-use features and innovative designs.
Stewart Insurance and Risk Management
We offer a variety of personal and commercial insurance products, including homeowners insurance, home warranty, hazard disclosures and bonds.
Buyers face tight market, higher prices – Colorado Springs Business Journal
May 27, 2016
Stewart chief economist Dr. Ted C. Jones says there's not enough housing supply in Colorado Springs, particularly for entry-level buyers.