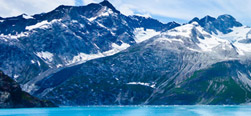 History of Alaska | United Title Guaranty
History of Alaska
Outsiders first discovered Alaska in 1741, when Danish explorer Vitus Bering sighted it on his long voyage from Siberia. The first settlement in Alaska was established by Russian whalers and fur traders on Kodiak Island in 1784.
17 of the 20 highest peaks in the U.S. are located in Alaska. Called Denali by the natives and later named Mt. McKinley, located in Alaska's interior, is the highest point in North America and the second-largest peak in the world.
After expanding their reach all the way to Sitka, war broke out in Europe in the 1820's, and the Russians began to lose interest in Alaska. In 1867, U.S. Secretary of State William H. Seward offered Russia $7,200,000, or two cents per acre, for Alaska.
On October 18, 1867, Alaska officially became the property of the United States, to the chagrin of many Americans, who called the purchase "Seward's Folly."
Joe Juneau's 1880 discovery of gold ushered in the Gold Rush era. Thousands of people flocked to Alaska, seeking their fortune in the wild frontier.
The state bird is the Willow Ptarmigan (Lagopus lagopus alascensis Swarth). Elected as Alaska's representative avian by the Territorial Legislature in 1955, the Willow Ptarmigan is a small arctic grouse that lives on open tundra in boggy areas. The Ptarmigan, an adaptive species, sports grey-brown feathers in the summer and white and grey plumage in the winter.
The Alaska state tree is the Sitka Spruce. This evergreen is abundant throughout the southeastern and central regions of Alaska, and was adopted in 1962 as the state's representative sapling. Used by the natives in art and ceremonial worship, this tree of trees truly defines the Alaskan landscape today. A favorite treat of the ever-elusive Spruce Bark Beetle.
The Alaska state sport is sled dog mushing. The sport, which was adopted by the Alaska Legislature in 1972, was once the primary form of transportation in most of Alaska. Today dog sled racing is one of Alaska's most popular winter sports. The Iditarod Sled Dog Race commemorates a time when the canine was a vital part of the everyday Alaskan experience.
Alaska's state flower, adopted by the Territorial Legislature in 1917, is the wild Forget-me-not.
The plant, marked by its beautiful blue petals and yellow center, can be found in most areas across the state.
Alaska's flag was designed by 13-year-old Bennie Benson from Chignik, Alaska, in 1926. The blue field symbolizes the clear Alaskan sky and the color of the Forget-me-not's petals. The North Star is for the future of the state of Alaska, the most northerly of the Union. The dipper is for the Great Bear – symbolizing strength.

Anchorage
2601 Denali Street
Anchorage, Alaska 99503
Phone: (907) 274-2562
Escrow Fax: (907) 222-7490
Title Fax: (907) 272-9739

Eagle River
11723 Old Glenn Highway, Space 208
Eagle River, Alaska 99577
Phone: (907) 694-2562
Fax: (907) 222-7462