Just as housing costs, incomes, taxes and the overall cost of living varies across the country, so does the cost of doing business. Once again the TINSTAANREM Axiom is invoked — There Is No Such Thing As A National Real Estate Market or economy. The same is true for the cost of doing business. 

Just this week Ford announced the plan to spend $11 billion and employ 11,000 workers at two new battery plants in Kentucky and battery and pickup assembly plants in Tennessee.  While BMW, Toyota and Mercedes have been assembling cars, trucks and SUVs for years in the South -- out of the U.S. rust belt -- the iconic U.S. car makers have doe likewise.  Ford is simply ramping up plant site diversification as they already had assembly plants in Chicago Illinois, Flat Rock Michigan, Louisville Kentucky, Wayne Michigan and Avon Lake Ohio.
To gauge the comparative cost of doing business across the U.S., tipalti approve (a provider of business and financial services) completed a comparative cost study for the lower 48 states and District of Columbia. They examined average annual wages, electricity costs, internet prices and top corporate income taxes and then calculated an overall affordability score for each state.
Data sources included:
StatsAmerica – average annual wage in 2020
Energy Information Agency (EIA) – electricity costs
HighSpeedInternet.com – average price of internet by megabit
Tax Foundation – top corporate tax rate
Each metric was scored for the 48 states and District of Columbia assigning a normalized score out of 10, and then averaged across the four data points yielding an overall affordability score.  Findings are detailed in the table. The most affordable states according to this methodology include Texas, Oklahoma, Kentucky, Nevada, Georgia and North Carolina. Toyota already assembles all their U.S. trucks in Texas while Nevada is home to Tesla's first giga factory. KIA, BMS, Hyundai, Mercedes, Honda and Porsche have a parts manufacturing plants or assembly facilities in Georgia. For decades GM had a car assembly plant in Oklahoma – so these lower-cost markets have benefited in the past from the U.S. auto industry.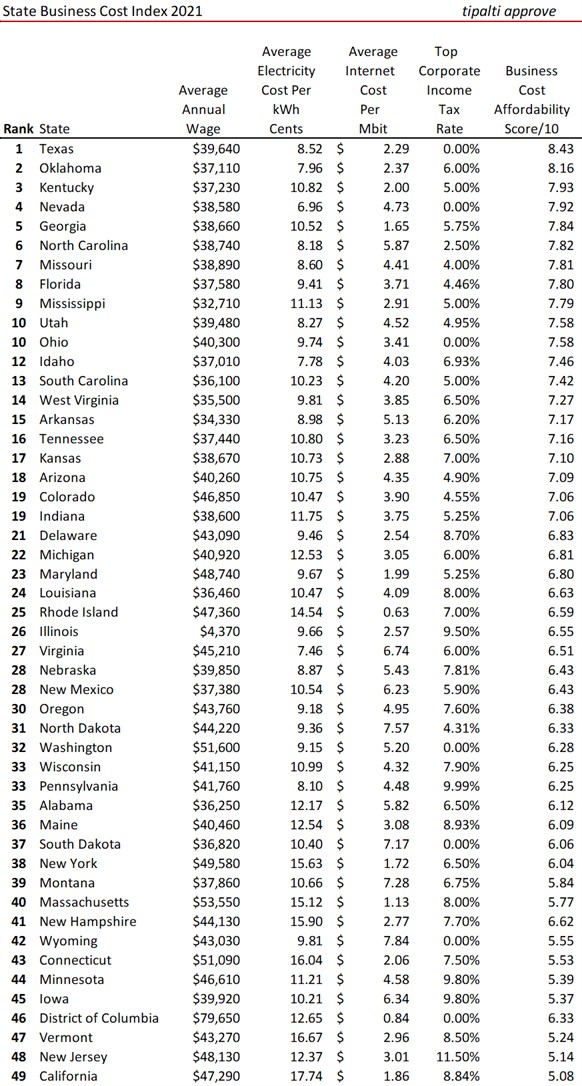 To read the entire study click The Business Cost Index 2021 | Approve.com
No doubt inclusion of other data factors and a change from equal weighting would alter these outcomes.   Still, the announcement this week by Ford to build new plants in Kentucky (the 3rd most affordable state in this study) and Tennessee (16th most affordable) yields credence to the methodology.  There are cost factors other than these four metrics but many might just be repetitive and redundant.  Tax abatements, access to skilled labor and logistics services are just a few of many important factors steering where business locates today and in the future.
Still, cost of doing today is one of keys in business location assuming ceteris paribus – all else equal. 
Ted