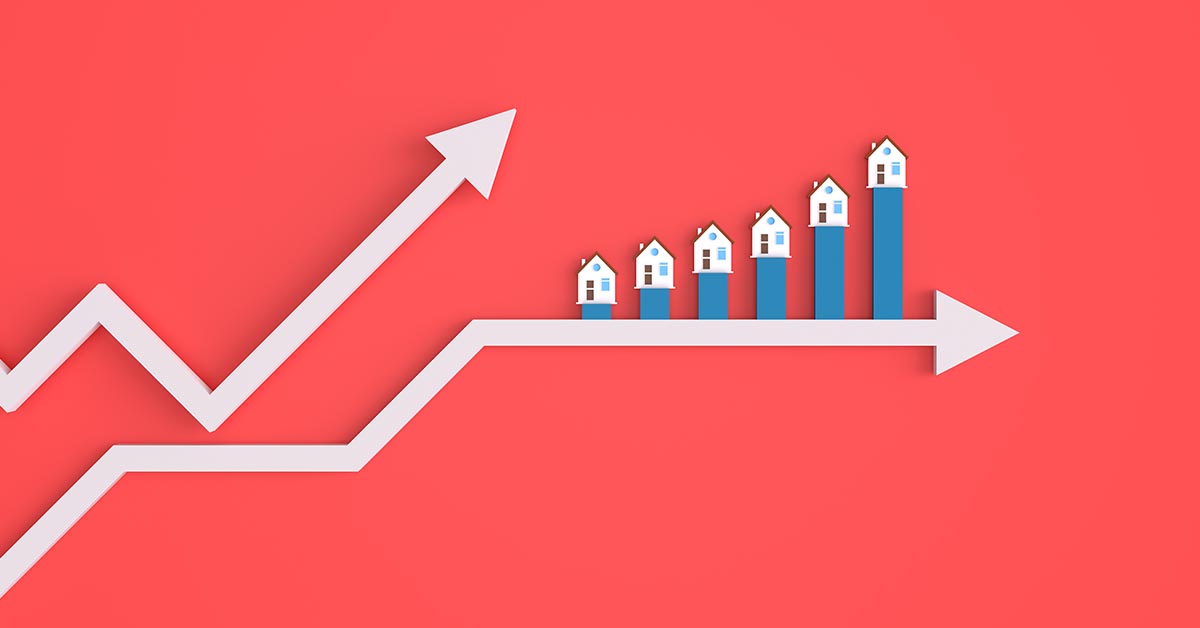 Existing Home Sales November 2021 – National Association of Realtors® (NAR)
Box Score
As of November 2021
Seasonally Adjusted Annualized Sales Numbers (SAAR)
6.46 million SAAR as of November 2021
up 1.9 percent sequentially from October 2021 from 6.34 million
down 2.0 percent year-over-year from 6.59 million in November 2020
Monthly Sales – raw data not seasonally adjusted
503,000 for the month of November 2021
down 4.4 percent sequentially versus the 526,000 sales in October 2021
up 2.0 percent versus the 493,000 sales in November 2020
Sales Trailing 12-Months – raw data not seasonally adjusted
6.145 million for the 12-months ending November 2021 – raw data not seasonally adjusted
up 0.2 percent vs 12-months ending October 2021 of 6.135 million
up 10.9 percent vs 12-months ending November 2020 of 5.540 million
Sales Year-to-Date – raw data not seasonally adjusted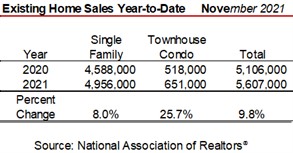 Median Price – November 2021         due to historic monthly seasonality of existing home prices, only a year-over-year comparison is made
$353,900 – not seasonally adjusted
up 13.9 percent vs $310,800 November 2020
Average Price – November 2021        due to historic monthly seasonality of existing home prices, only a year-over-year comparison is made
$372,400 – not seasonally adjusted
up 8.6 percent vs $342,800 recorded in November 2020
Single-Family Sales by Price and Median Days on the Market Prior to an Accepted Purchase Contract – sample data not seasonally adjusted
Primary reason sales priced $250,000 and less are down is due to minimal inventory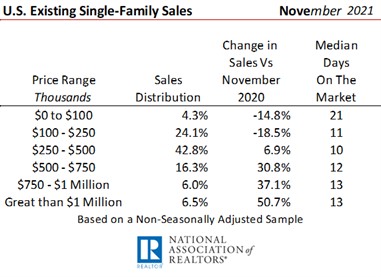 Months Inventory – with 6.0 months inventory considered normal on an historical perspective – Seasonally Adjusted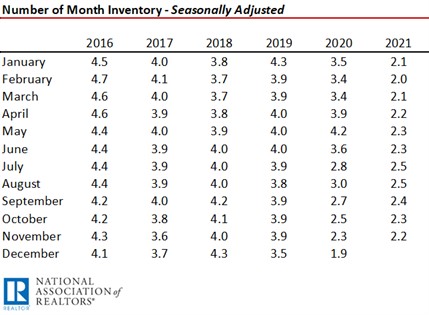 Graphs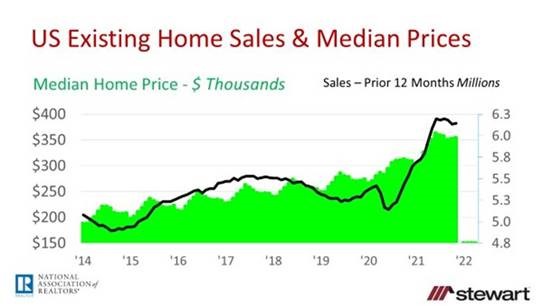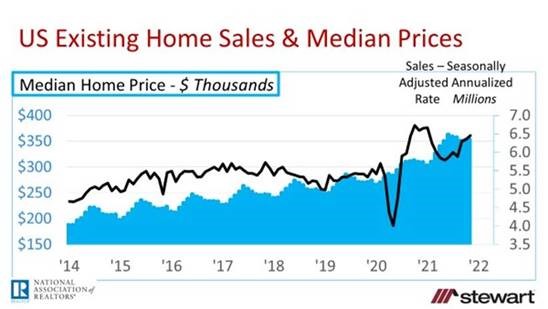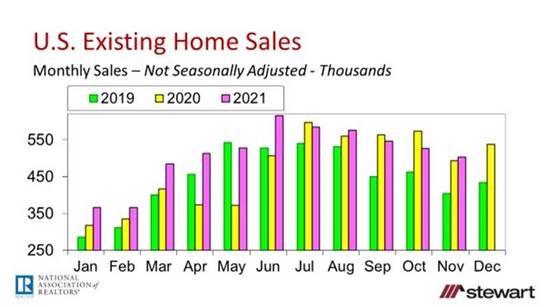 Click here to read the full press release from NAR.
Headwinds in 2022 include rising interest rates, affordability issues and uncertainty of the economy given the ever-evolving pandemic.   A major anticipated change is cooling of the rocketing trajectory of median prices (up 13.9 percent in the 12-months ending November 2021).   Current median price gain forecasts are shown below in one of my Tweets from this week.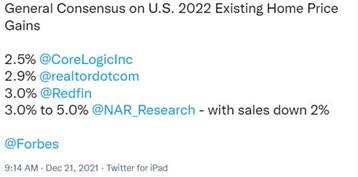 Housing is still hot, but rising rates may change that significantly.  Do follow me on Twitter at https://twitter.com/DrTCJ
Given the changes in how buyers search for homes and the technology utilized, it is time to revisit what defines normal inventory.    With the typical home receiving an accepted offer in 18 days in November 2021, the prior 6-months of inventory has become dramatically compressed. 
Ted