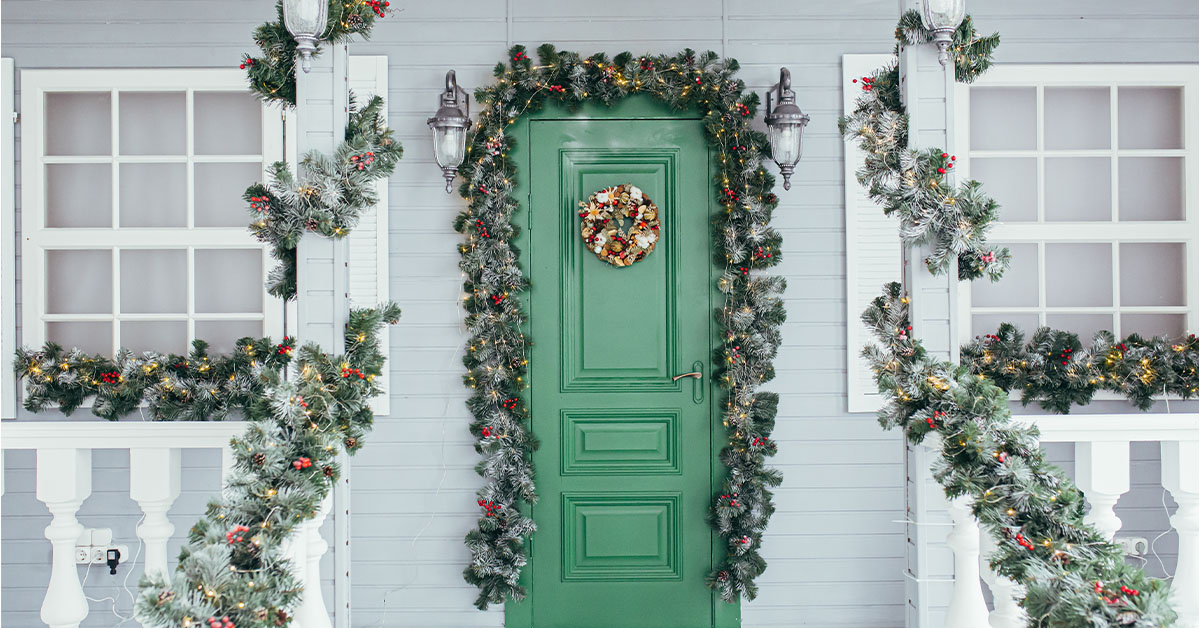 The holiday season is a great time to turn up your curb appeal and get your home looking its best. Decking the halls for Christmas, Hannukah, Kwanzaa or whichever holiday you celebrate doesn't have to be costly or stressful. Whether you're looking to save on your electric bill or help keep your energy consumption down, here are a few ways to maximize impact on holiday lights while minimizing the impact on your wallet.
Switch Out Your Outdoor Lights for Holiday Colors
If you already have coach, accent lighting or flood lights installed, replacing white lights for colorful ones is a quick and easy trick to getting your home looking festive. Accent lights are a great way to emphasize unique features of your home so if you do not have them installed, it could be a great addition that adds curb appeal for the whole year. From solar powered to app-controlled LED options, there are many affordable light packs that are easy to install yourself. As a bonus, they also add nighttime safety and deter unwanted visitors from your home.
Decorate Your Front Door with a Pre-Lit Garland and Wreath
Whether you live in a brownstone, tiny home or just don't have time to decorate your yard, decorating your front door is a great way to save on costs while adding flare to your entryway. Use a battery-operated option so your electric bill won't be affected. Choosing a plain, evergreen option could also give you more creative freedom to change up your decoration for next year. From glittered flowers to reflective ornaments, you can reuse your garland for many years to come. Make sure to take out the batteries before storing it away for next year.
Choose Solar-Powered or LED Holiday Lights
If you live in an area with lots of sunlight, you can harness the power of nature to light up your home this holiday season. From string lights to light-up candy canes and jumbo path lights, there are many options to choose from online and at your local home improvement stores. Best of all, they are easy to install and adjust. Make sure to place them in an area that gets enough sunlight to charge up before sunset.
Want to light up an area that doesn't get much sun? Remember to always use LED lights. They consume 80 to 90% less energy and last 90,000+ hours longer than traditional incandescent lights.
Use a Holiday-Themed Projector
From Santa and his reindeer to Frosty the Snowman, you can find a projector for just about anything these days. Depending on the size of your house or the wall you'd like to project on, you may only need to install one, as many can cover up to 800 square feet. Best of all, these projectors start at as low as $20. Make sure you choose an LED projection light with options like snowflakes or stars to give your house a classic look.
We hope you find these tips helpful and will use them to change up your holiday décor this year. Whether you do a mix or go for one of these tips, remember to highlight your home's best features. You never know when a potential homebuyer could be driving around your neighborhood.
Want more tips? Check out these articles:
Home Maintenance Checklist for Winter
Home Inspection vs. Home Appraisal: What's the Difference?
Thinking about listing or buying? Visit our Home Buyer Seller Page.