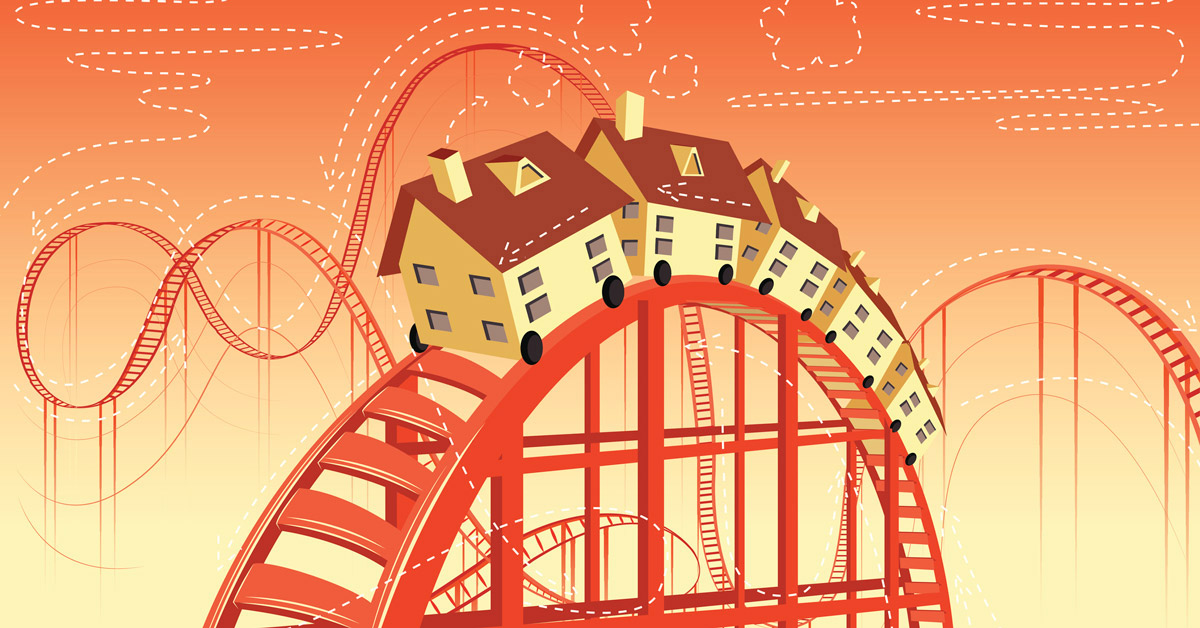 The summaries of the latest monthly forecasts as of May 2022 for U.S. residential housing markets and lending from Fannie Mae and the MBA are detailed below.  While Fannie Mae and the MBA now seem to be looking through similar colored glasses regarding interest rates, both are up significantly since the start of the year and now almost double the level seen in January 2021.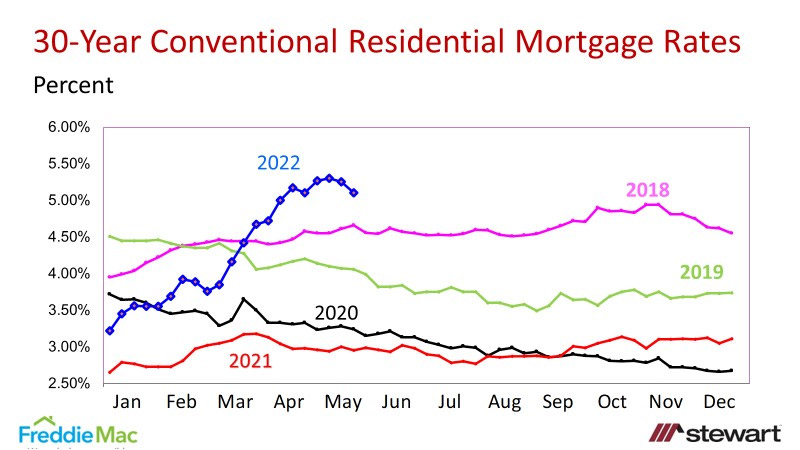 The latest interest rate forecasts from Fannie Mae and the MBA are shown in the first table with the expectation that rates in 2022 and 2023 will be up approximately 150 basis points compared to 2021.

Existing Home Sales
Existing home sales forecasts on a seasonally adjusted annualized rate (SAAR) and median price expectations are shown in the next two tables.  Both Fannie Mae and the MBA each see sales declining in 2022 but by differing levels.   The MBA forecasts a moderate 3.1 percent drop in existing home sales while Fannie Mae says it will be four times that level at a 12.4 percent reduction.  Fannie Mae calls for added 11.5 percent decline in 2023 while the MBA expects sales to increase 2.1 percent. Despite a similar interest rate forecast, Fannie Mae sees a Strong home price gain of 10.8 percent in 2022 compared the MBA's 8.5 percent.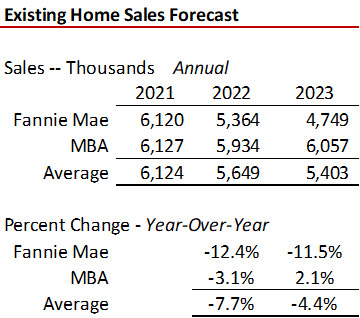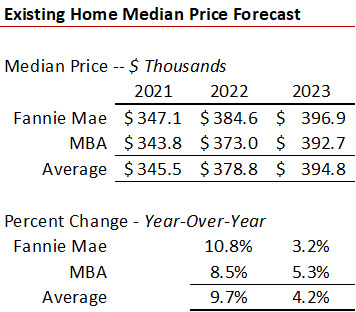 New Home Sales and Median Prices
The MBA continues to be more optimistic regarding the outlook for new home sales with an expected increase of 4.8 percent in 2022 versus a 1.4 percent drop by Fannie.    The spread becomes even larger in 2023 as Fannie Mae calls for a 12.5 percent decline compared to the MBA's 5.1 percent increase.   New home prices are expected to go up approximately 10 percent in 2022 and another 2 to 3 percent in 2023.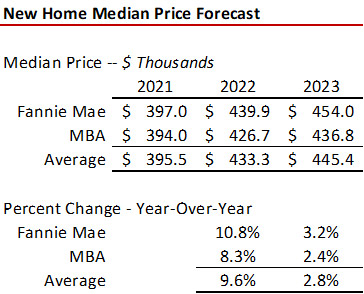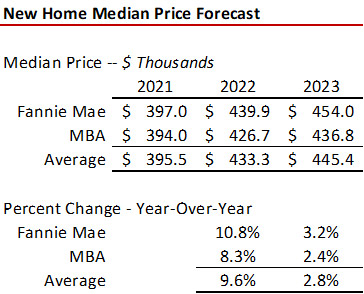 The next table combines the median price and interest rate forecasts and shows the respective principal and interest payment (P&I) assuming 20 percent down.  The estimates call for typical monthly P&I payment to increase a staggering 69 percent from 2020 to 2023 by both Fannie Mae and the MBA.  This massive monthly price payment increase leads me to support the expectation of declining home sales for both new and existing home sales in 2022 and 2023.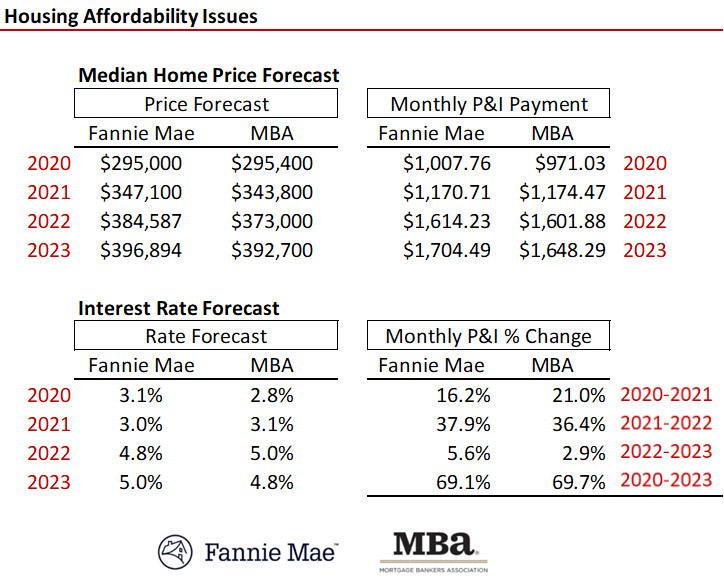 Residential Lending
Lending forecasts are detailed for both purchase and refinance transactions in the next table.  The focus of the story is the massive 65.1 percent to 69.4 percent plunge in refinance volumes in 2022, respectively, from Fannie Mae and the MBA.   Total lending (Purchase + Refinance) is expected to drop almost 40 percent (average) in 2022 and another almost 12 percent in 2023.  That means that for every 10 residential loan officers in 2021 one-half will not be needed by the end of 2023.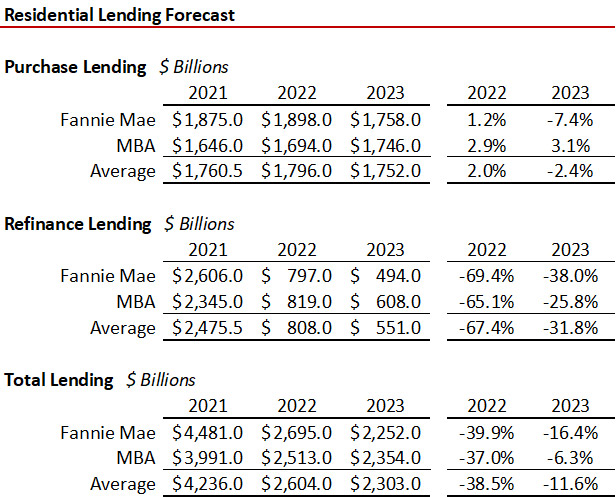 The last table shows the expected percentage change in lending volumes year-over-year on a quarterly basis.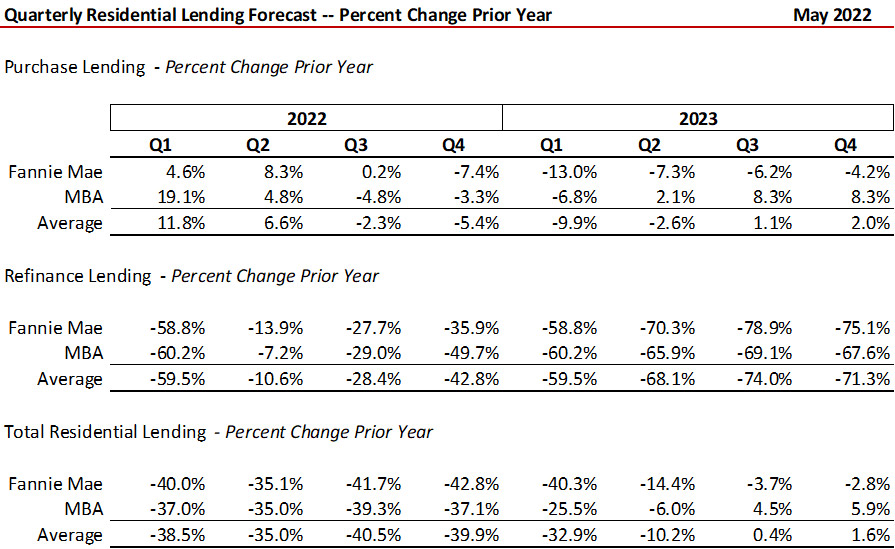 To view and download these forecasts, click the following links:
The latest weekly interest rate data from Freddie Mac can be found at:

The massive head-on collision of evaporating affordability (a combination of rising home prices and interest rates) is going to negatively impact home sales without question.   How much that decline will be is still unknown.
Ted