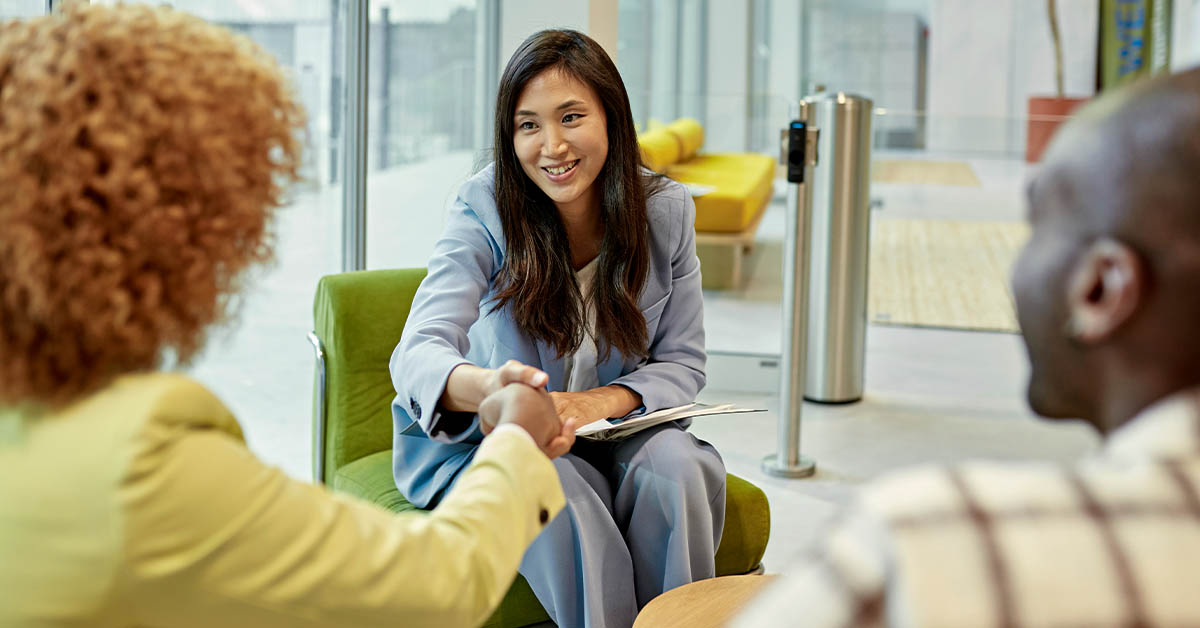 BY STEWART CONTENT TEAM

Buyer's Perspective:
Once you've assessed your spending qualifications, it's beneficial to find a real estate agent to help you find your perfect home. In most cases, the buyer and seller have different real estate agents who represent their respective interests in the transaction. The seller's agent is also sometimes referred to as the listing agent because they listed the home for sale.
It's important to choose an agent who is responsive to your needs and can guide you through each step of the home-buying process. Here are a few simple guidelines for finding the right agent for you:
If you already know the neighborhood where you would like to live, find an agent within that community.
Seek an experienced agent with a known reputation; look at credentials, track records and awards received.
Look for someone who is a member of the National Association of REALTORS®.
Find someone who is continuing their education, like a Certified Residential Specialist, a Certified Residential Broker, a graduate of the REALTORS® Institute or an accredited buyer's representative. This shows the agent is invested in their career and the industry.
Seek referrals from your family and friends.
Interview at least three agents before you make your final decision.
If you are being referred to an agent, here are some questions you will want to ask about them:
What were they like to deal with?
How hard did they work for you?
Did they get you a good price?
Were there any complications?
Did they always tell you the truth?
Were they always looking out for you or just interested in getting paid?
Would you use their services again?
Once you've narrowed your options to your top three potential agents, ask these questions of your finalists:
How many buyers have you successfully represented in the last six months?
Can I have the names and phone numbers of three to six of your most recent buyer clients?
Do you deal mostly with home buyers or primarily with home sellers?
Which professional designations do you have?
Are you fully automated with your own personal computer, fax machine, copier, smartphone, voice mail, etc.?
What is your commission? Or do you have hourly rates or a set fee?
Do you have a list of home inspectors, insurance agents and reputable lenders for me to consider?
Which clauses will be included in our offer to protect us as buyers?
Will you try to sell me one of your listed properties before you show me listings from other real estate companies?
Do you have information about For Sale by Owner properties?
How will you help me save money?
How will you protect my interests, and why should I hire you rather than another agent?
Now, here are some questions to ask yourself after the final interview of potential agents. The answers to the following questions will increase your chances of choosing the best real estate agent for you and your family.
Which one returned your phone calls?
Which one asked questions to determine what you want/need in a home?
Which one performed a financial analysis to determine how much you can afford?
Which one suggested financing methods?
Which one seemed most knowledgeable about the community?
Which one explained things most clearly?
Which one did you feel most comfortable with?
Seller's Perspective:
When looking for a listing agent, look at more than one candidate and get referrals. Review their experience and get a feel for their approach by asking the right questions. Here are a few to consider:
What are comparable listings in my neighborhood?
What do you think my property is worth? What are you considering?
How would you approach marketing my home and what's your approach to getting the best assortment of offers?
How many sellers have you represented in the last six months?
How many homes have you sold in the last six months?
What is the average time your listings are on the market?
Can I have referral contact information for your most recent clients?
What is your commission? Or do you have hourly rates or a set fee?
Why should I hire you rather than another agent? How will you protect my interests?
Interested in learning more about the buying and selling process?