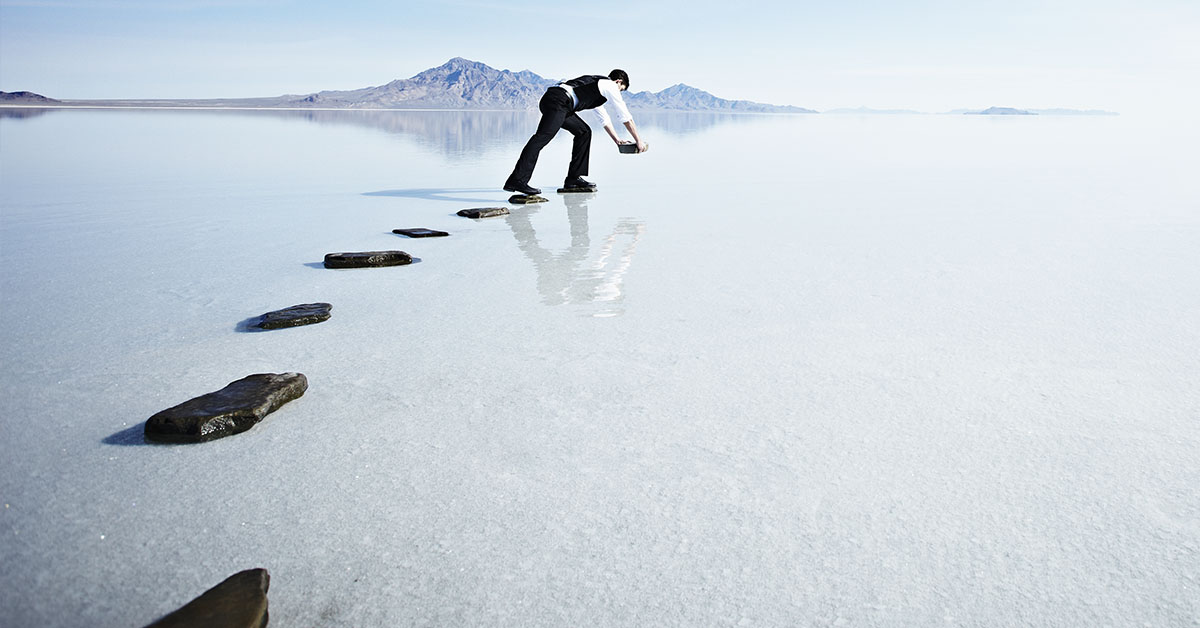 Three states made the list in July 2022 as having at least as many jobs as before the pandemic adding to the 15 already fully recovered based on the latest seasonally adjusted employment numbers from the Bureau of Labor Statistics (BLS). The first table shows where each of the 50 states and the District of Columbia stood as of July 2022 in comparison to February 2020 – the month prior to the pandemic. Continuing as the best recovered are Idaho and Utah with 6.3 percent and 6.2 percent more jobs as of July 2022 than before the pandemic, respectfully. Those lagging the most in recovery of lost jobs from the pandemic include Hawaii (down 7.7 percent), Alaska (short 5.1 percent), the District of Columbia (-4.7 percent) and Vermont (-4.3 percent) as shown in the first table.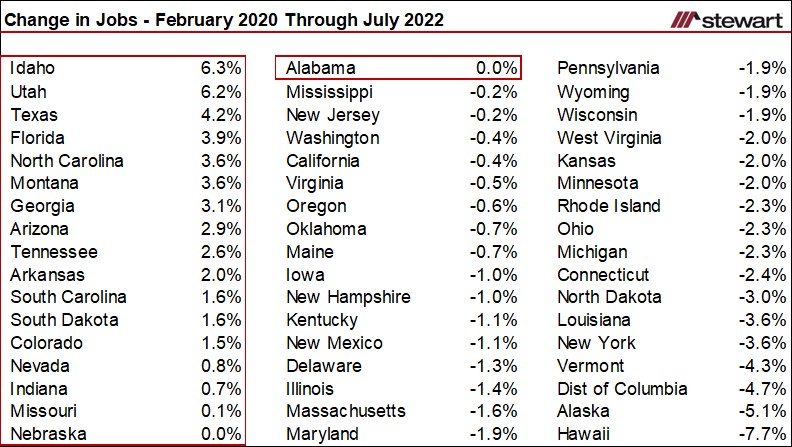 The latest 1-month and 12-month job performance metrics are detailed in the next two tables. Only three states posted a month-over-month decline in jobs from June to July 2022: Montana (-0.2 percent), Tennessee (-0.4 percent) and Kentucky (-0.6 percent). Just one-state posted a gain greater than a single digit with Hawaii up 1.3 percent. Hawaii was the third hardest hit state at the onset of the pandemic losing 23.1 percent of all jobs, exceeded only by Nevada (-23,4 percent) and Michigan (-23.7 percent). Every state added jobs during the past 12-months with Texas having the top growth of 5.8 percent and Kansas the least, up 1.0 percent.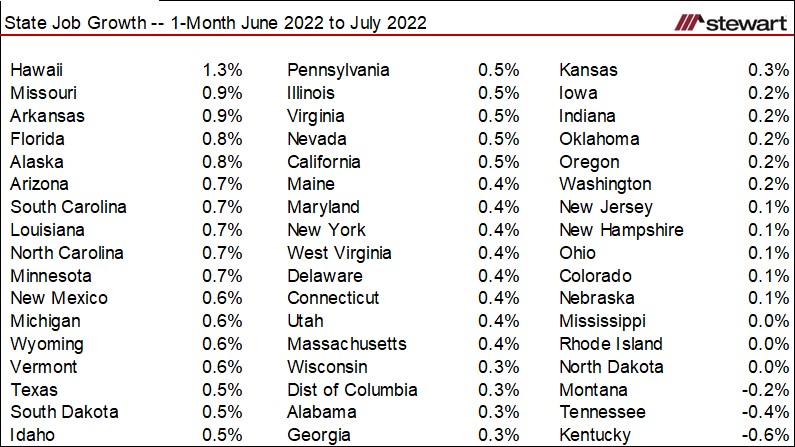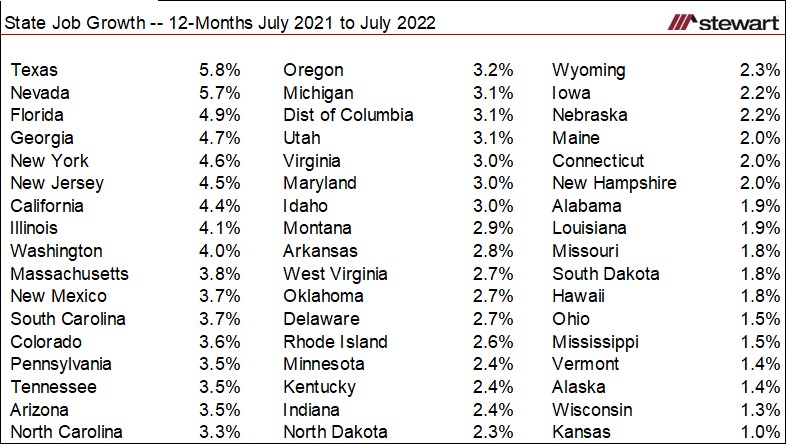 Summary metrics for all 50 states and the District of Columbia are shown in the next table, sorted alphabetically. Included are the percent of jobs lost from the start of the pandemic to the trough and the total number of jobs as of July 2022.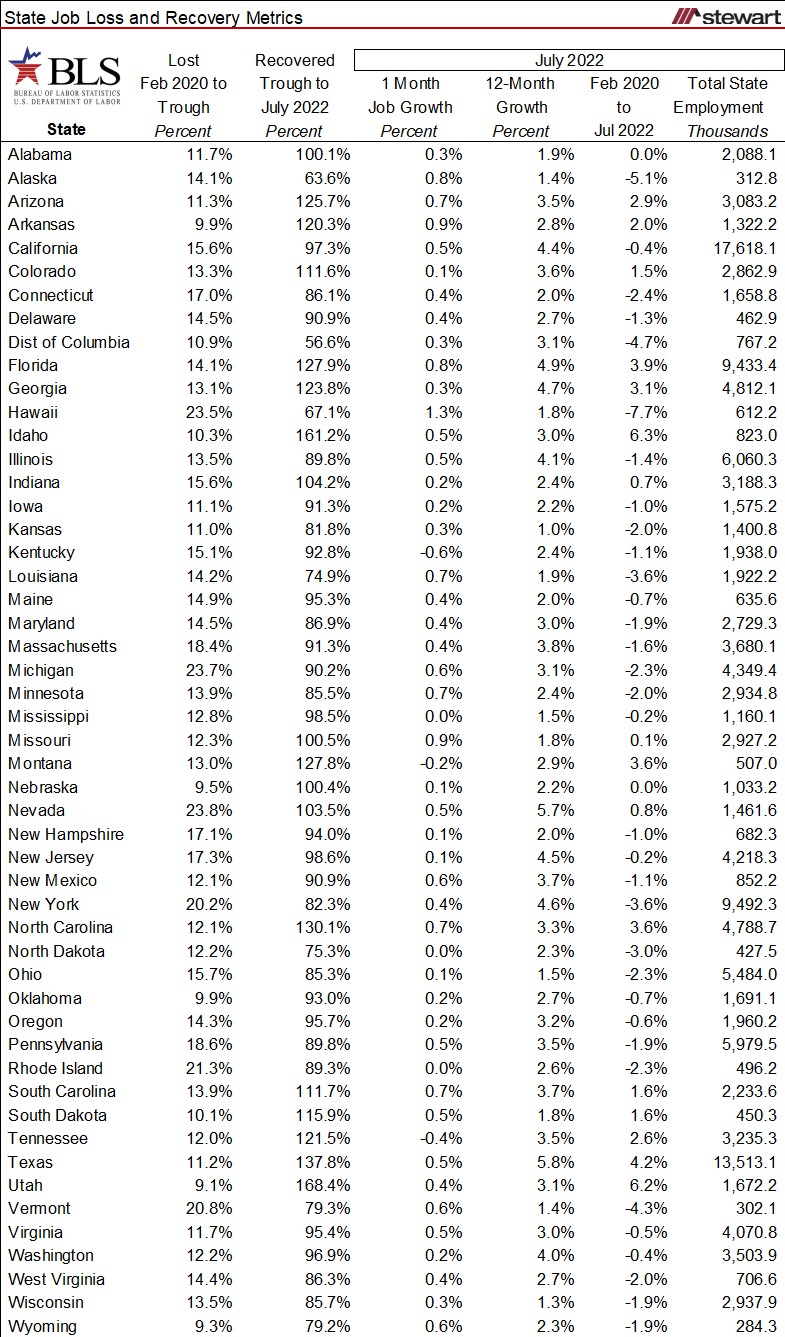 The last table ranks the states and the District of Columbia by the total number of jobs as of July 2022 and includes cumulative employment percentages. One-half of all jobs in the U.S. are found in just nine states: California, Texas, New York, Florida, Illinois, Pennsylvania, Ohio, Georgia and North Carolina. The 21 states with the fewest jobs make up just 10 percent of those employed across the country.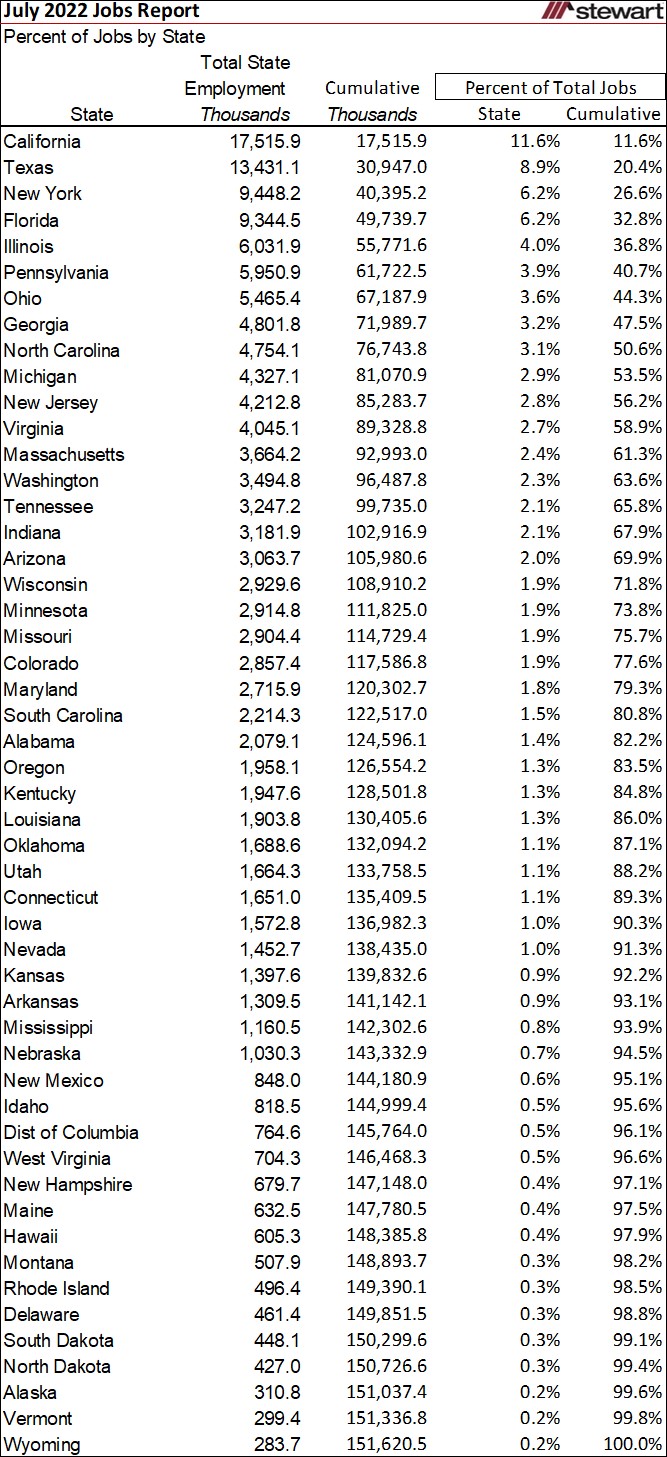 Jobs are everything when it comes to the economy and the ultimate demand for real estate. The pandemic recovery continues – but just with job losses at the onset, new jobs vary across the economic landscape.
Ted