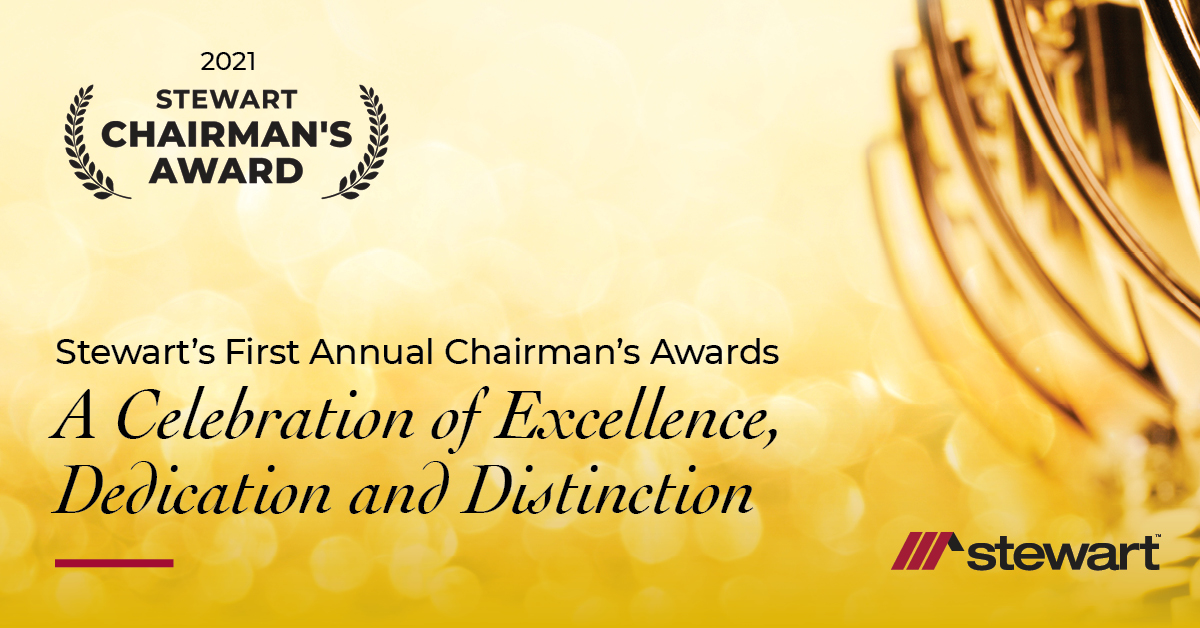 Stewart's First Annual Chairman's Award Winners Announced
Stewart is proud to announce its inaugural Chairman's Award winners, four teams and eight individual employees who went above and beyond their everyday duties in 2020 and 2021. Launched in September 2021, the Chairman's Award recognizes employees that display exemplary work and tremendous dedication and commitment to making Stewart the Premier Title Services Company. Nominations were made by peers and carefully considered for Stewart's most prestigious award by our executive leadership team. Congratulations to the following team members for living out Stewart's DNA:
2021 Chairman's Award Team Winners:
COVID Management Team
Jessica Fisher, Deena Hicks and Jen Ward
Selected for their work during the COVID-19 pandemic, supporting the transition of the workforce to remote work, developing critical resources, handling all COVID-related employee cases and issues, all while continuing their normal duties and managing personal issues during the pandemic.
Agency Product Development Team
Hilary Attura, Jeffrey Cavacini, Jessica Charmatz, Luke McKean and Dona Sutton
Selected for their delivery of ease-of-use underwriter services to Stewart's agency base and exemplifying the spirit of "one Stewart."
Marketing Web Team
Marcos Avalos, Pablo Berrios, Sommer Mayorga, Mark Warren, Abdul Aleem, Ali Asghar, Irfan Haq and Honey Kalla
Selected for their collaborative spirit and work with almost every business and service unit across Stewart on the rebuild of stewart.com and virtualunderwriter.com.
Los Angeles Commercial Services Team
Lola Blatt, Josette Loaiza, Vickie Goergen, Andrea Mendoza, Nancy Rico, Luvia Osegueda, Lisa Ortiz, Julia Escobedo, Kaitlin Eells, Sonia Gomez, Lisa Kreueger, Jeff Kreueger, Jimmy Morada Jr., Kristine Poole, Laura Rihel and Michelle Rodriguez.
Selected for the ultimate team effort in coordinating and executing on a $730 million, 87-site, eight-state closing.
2021 Chairman's Award Individual Winners:
Chad Felix
Selected for his work as a Sales Manager helping to successfully integrate Western Title Company into Stewart, as well as his leadership and philanthropy within the local community.
Hong Fu
Selected for her work as a Principal Software Engineer on the Stewart Connect project, along with work ethic, dedication and her mentorship providing effective tools and skill sets to Stewart software engineering teams.
Rheanna Gieseking
Selected for her outstanding support of the Walnut Creek team during the height of the COVID-19 pandemic.
Nikki Gonzalez
Selected for her work as a Senior Operations Manager in Utah. Known as a "go-to" person among her peers, Nikki's 30-year career at Stewart is defined by her every-day work ethic, exceptional customer service, and her willingness to share her knowledge, collaborate, and support her teammates.
Thomas Martin
Selected for his work as an IT Business Relationship Manager, approaching every issue with a perspective of business first and what is best for Stewart. He routinely goes out of his way to improve processes and create efficiencies, specifically in working with acquisition integrations and third-party Title and Search Company upgraded security accesses.
Pam Nestico
Selected for her leadership and influence over the past 50 years as a Stewart employee and exemplifying the kind of selfless, customer-centric attitude that is essential to our company's DNA.
Caroline Reiser
Selected for her role in the successful launch and deployment of the TiCUN project, which focused on automating the Title Commitment production process. This key strategic initiative has allowed Stewart to remain competitive with upstart tech companies entering the title space.
Julia Wycliff
Selected for her teamwork in setting a new precedent in coordinating the approval and creation of ALTA form filings.
Stewart wishes these individuals and teams congratulations and continued success. Their work is positively impacting our journey to being the Premier Title Services Company.