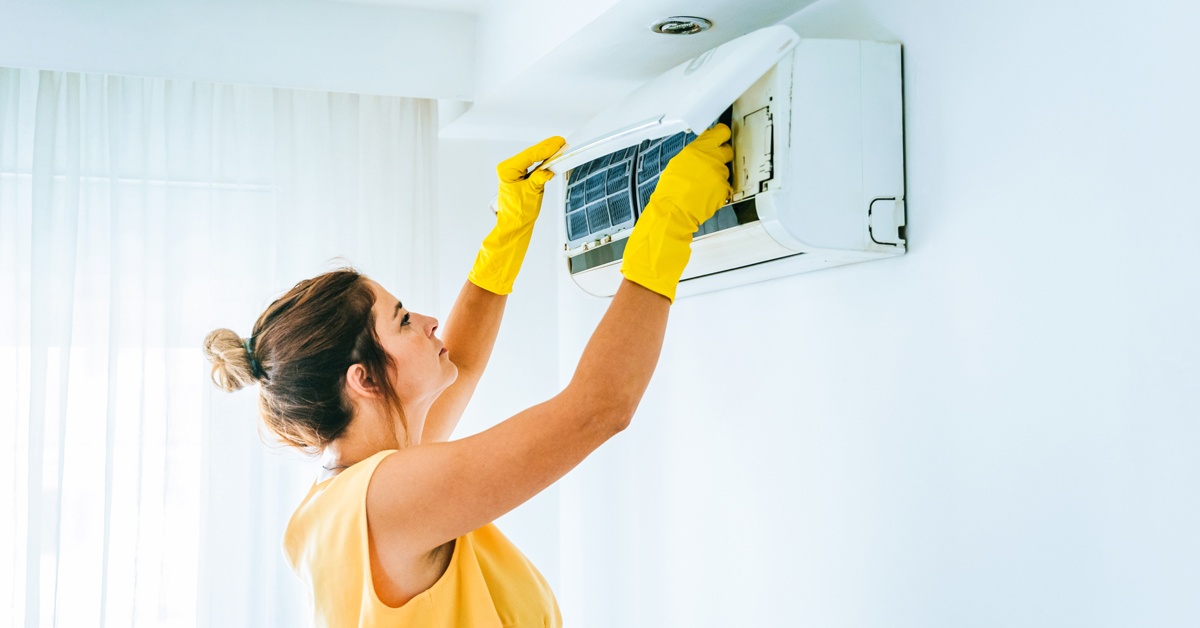 After the holidays, it's easy to let your home or rental property go a bit unattended but it deserves a fresh start for the year, too. You may not realize it, but your home is full of easy-to-overlook tasks that can cost you in the long run if left untouched. Get your real estate investment spring-ready with a little TLC. Here are three chores you can do indoors to jump-start your spring cleaning:
Change the filters.
Your central heating has been working overtime. Air filters are a vital part of your heating system. If they aren't changed regularly, dust particles can build up which affect energy efficiency and even your health. Energy Star states households spend an average of $2000+ on utility bills a year and nearly half of it goes to heating and cooling. Studies have shown changing your air filters every 3 months could save you up to 15% on energy consumption. Don't make your central heating unit work harder than it needs to. This easy task will also vastly improve your home's air quality.
Air filters are not the only item that can be neglected. Checking your water filtration system is also vital to your health and energy savings. If you use a water filtration unit or ice maker, make sure to change the filters. Many appliance manufacturers recommend changing refrigerator water filters every 6 months and never waiting more than a year. An easy sign your filter may need to be changed is decrease in flow rate or water pressure. Protect your family from harmful contaminants and bacteria in your water with this easy fix.
Another item you may be using daily and forgetting is the hood filter above your stove. To clean it you can use a mix of dish soap and baking soda with hot water. This will help remove built-up grease. Hood filters help keep your kitchen safe so it's important to clean them often, ideally every few weeks.
Test smoke alarms and carbon monoxide detectors.
A carbon monoxide leak is dangerous and could even be deadly. CO detectors could save your family's life and protect your rental guests. Many are affordable and start around $20 plus hosting platforms like Airbnb even offer them for free to their hosts. It's recommended to test your detectors monthly to ensure they are working correctly.
We've all watched a TikTok or been on a virtual call and heard a fire alarm chirping for a new battery. Make sure to replace the batteries in your smoke alarm as soon as you start hearing it. You never know when a fire could start!
Wipe down the walls and baseboards.
You may be cleaning easy to reach areas often but scuff marks, the occasional water splash and dust builds up on your walls and baseboards. Get your home looking spick and span without having to take out the paint gear. Prep your baseboards by using the brush attachment on your vacuum to help loosen the dirt then wipe them down with a soft or paper towel. Another trick to help keep dirt off your baseboards is to use a dryer sheet for a final wipe down. This will leave a coating on the baseboard and to help repel dirt.
Make cleaning easier on yourself with the right tools. Use a clean towel tied to the end of a sweeper mop to avoid getting on a ladder or straining your back. It's recommended to wipe down your walls and baseboards every few weeks but doing the whole house can be a daunting task. Start wiping down one or two rooms each week along with your normal cleaning routine and you'll keep your house looking fresh all year long.
These are just a few of the many things you can do to get your house and rental prepped for spring guests. Make sure to find products that are gentle and skin safe or to protect your skin with gloves. If you choose products that contain chemicals or leave behind fumes, ventilate the area by opening doors and windows and turn on a fan if available.
Looking for more tips? Visit our Home Buyer and Seller Corner for articles on energy efficiency, open house prep, home insurance tips and more.
Check out these articles: